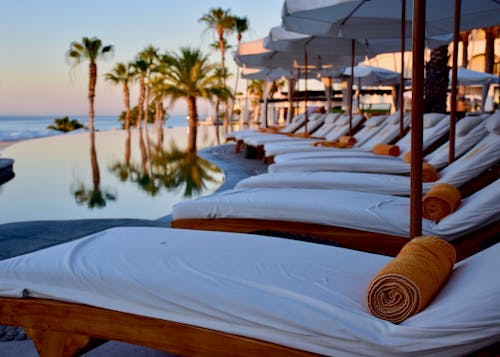 Are you looking for an idea for large outdoor umbrellas? Keep your family from the sun's rays, minimize eye pain from midday glare, and beat the burning hot weather from this guide below. Learn and find out more about the umbrellas that will suit your outdoor space.
Umbrella Style
Your outdoor area will determine whether you go a cantilever, the side post, or the centre post umbrella. Umbrellas with a cantilever frame have their primary frame on the side, thus the name. Since there is no post in the middle, there is plenty of usable space beneath the canopy. It also gives you a lot of versatility because cantilever umbrellas can turn 360 degrees, allowing you to follow the sun's direction throughout the day. Cantilever umbrellas could also be angled (back towards the pole and occasionally even sideways) to provide even more shading protection as the sunsets.
Centre post umbrellas, also known as market or garden umbrellas, contain a central pole to obscure your vision. Still, they do exist in various sizes and styles, something that many cantilever umbrellas do not.
Long-lasting and can withstand any weather
If you reside in a specifically windy place, many umbrellas can withstand far more wind than many others, and you must consider these to make the most of your outdoor living spaces. These umbrellas feature extremely sturdy aluminium frames that can withstand winds of up to 100 km/h, depending on the design and size.
It is required to attach an umbrella to the ground if it has a more excellent wind rating. A wind-rated umbrella requires attaching the base down or compacting the in-ground foundation into the ground. Various base options are available to many cantilever umbrellas. Pinning them down is still possible; this provides a tiny footprint for the umbrella but no wind rating.
The bases offered for centre post umbrellas have a sturdy base and a metal stem into which the umbrella slots. Concrete or granite are the most common choices for these foundations.
Umbrellas for markets and gardens are made for shade, not wind, and while you should always put your umbrella down when you're done with it, most umbrellas can survive light gusts.
Shape and size
It is pretty simple to figure out what size and shape of umbrella is best for you. Get your measuring tool and figure out what size and shape you need to keep cool this summer and protected from the rainy season.
When purchasing an umbrella to shade your patio or playground, make sure it covers as much space as possible, whether it is a rectangular, square, or round umbrella. Large outdoor umbrellas will provide more shade and shelter the children from the sun while they play.
To ensure complete shading for everyone at a dining table, apply the 60cm buffer guideline around the table. However, more buffers are even better. Regardless of what direction the sun ray is going, you and your company can experience glare-free dining and entertainment.
Conclusion
When buying an outdoor umbrella, the crucial part is its size and shape, whether it could perfectly fit your outdoor area. Then, knowing the material used in the umbrella will be very beneficial, especially if you live in a place that has drastic weather changes. May you find the perfect outdoor umbrella for your whole family to enjoy.