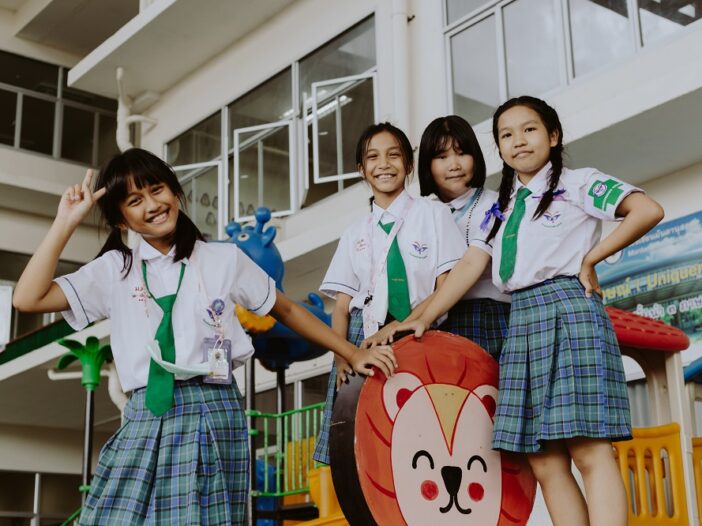 Playgrounds are vibrant spaces where children can unleash their energy, engage in imaginative play, and foster social interactions. In recent years, playgrounds have evolved beyond traditional swings and slides, with the introduction of bouncing equipment.
These dynamic pieces of school playground equipment, such as trampolines, bouncing castles, and spring riders, offer an exhilarating and interactive experience for children.
In this blog, we will explore the numerous benefits of incorporating bouncing equipment into your playground, highlighting how it promotes physical development, social interaction, and overall well-being.
Physical Fitness and Motor Skill Development
Bouncing equipment is an excellent way to promote physical fitness among children. Jumping, bouncing, and hopping on trampolines or bouncing castles provide a full-body workout, improving cardiovascular endurance, coordination, balance, and core strength.
These activities engage large muscle groups, enhancing bone density and muscle tone. The rhythmic movements required during bouncing help children refine their motor skills, including bilateral coordination, proprioception, and spatial awareness.
Regular use of bouncing equipment can contribute to better physical fitness, leading to reduced sedentary behavior and improved overall health. It's important for young people to get into weekly exercise to make sure they are fit and healthy and don't become overweight.
Sensory Stimulation and Body Awareness
Bouncing equipment offers unique sensory stimulation that engages multiple senses simultaneously. The bouncing sensation provides proprioceptive input, allowing children to develop a better sense of body awareness, balance, and spatial orientation. It helps them understand their body's movements and positions in space.
Moreover, the rhythmic bouncing motions provide sensory input that can have a calming effect on children, reducing stress and anxiety. The combination of physical activity and sensory stimulation on bouncing equipment creates a holistic sensory experience, promoting sensory integration and development.
It can help some children with learning difficulties gain spacial awareness and help them to develop different skill sets.
Joyful Physical Activity and Engagement
One of the most evident benefits of bouncing equipment is the sheer joy and excitement it brings to children. Bouncing creates a sense of weightlessness and elation, triggering laughter and smiles.
This enjoyable experience encourages children to engage in prolonged physical activity, as they happily bounce away, often unaware of the exercise they are getting. Unlike traditional playground equipment, bouncing equipment offers a dynamic and energetic experience that captivates children's attention, ensuring a fun-filled environment where they eagerly participate in active play.
Social Interaction and Cooperative Play
Bouncing equipment promotes social interaction and cooperative play among children. When multiple children gather around a trampoline or bouncing castle, they naturally engage in turn-taking, sharing, and collaborative games. They can bounce together, challenge each other with tricks and jumps, or engage in friendly competitions.
This shared experience fosters teamwork, communication, and negotiation skills. Children learn to respect each other's space, take turns, and follow rules, thereby developing social and emotional competencies essential for positive peer relationships.
It's important for children to experience social interactions as it helps them to develop and make bonds with other people. It is also important because children need to learn how to work together and share with each other.
Cognitive Development and Creativity
Bouncing equipment stimulates cognitive development and nurtures creativity. As children engage in bouncing activities, they learn to anticipate the timing and intensity of their jumps, enhancing their problem-solving and decision-making skills. They experiment with different movements, exploring the cause-and-effect relationship between their actions and the bouncing outcome.
Furthermore, bouncing equipment offers an imaginative platform for pretend play, inspiring children to create stories and scenarios. This imaginative play encourages cognitive flexibility, imagination, and narrative skills, boosting overall cognitive development.
Tips on How to Make Bouncing Equipment Fun and Engaging
Bouncing equipment, such as trampolines, bouncing castles, and spring riders, is already inherently exciting for children. However, adding an extra element of fun and engagement can elevate the bouncing experience to new heights. Here are some tips on how to make bouncing equipment even more enjoyable for children:
Incorporate Games and Challenges
Introduce various games and challenges that children can engage in while bouncing. For example, you can set up a "Simon Says" game where children must perform specific movements or tricks while bouncing.
You can also create a bouncing obstacle course with different stations or targets that children need to reach or touch. These games and challenges not only make bouncing more entertaining but also enhance coordination, agility, and problem-solving skills.
Introduce Music and Dance
Music and dance can add a whole new level of fun to bouncing activities. Play upbeat and energetic music that matches the tempo of the bouncing movements. Encourage children to bounce in rhythm with the music or come up with dance moves to go along with the bouncing.
This combination of music and bouncing creates a dynamic and lively atmosphere that keeps children engaged and motivated.
Incorporate Props and Accessories
Provide children with props and accessories that they can use while bouncing. For example, you can give them colorful scarves to hold and wave as they bounce, creating a visual spectacle. You can also provide softballs or foam shapes for them to toss and catch while bouncing. These props add an interactive element to the bouncing experience, stimulating creativity and coordination.
Incorporating bouncing equipment into your playground offers a multitude of benefits for children's physical, social, and cognitive development. Beyond the sheer joy and excitement it brings, bouncing equipment promotes physical fitness, motor skill development, sensory integration, social interaction, and imaginative play.
By providing an engaging and dynamic play experience, bouncing equipment not only contributes to children's physical well-being but also nurtures essential life skills, such as cooperation, problem-solving, and creativity. So, bounce into fun and development by embracing bouncing equipment in your playground, creating an environment where children can thrive, grow, and flourish.