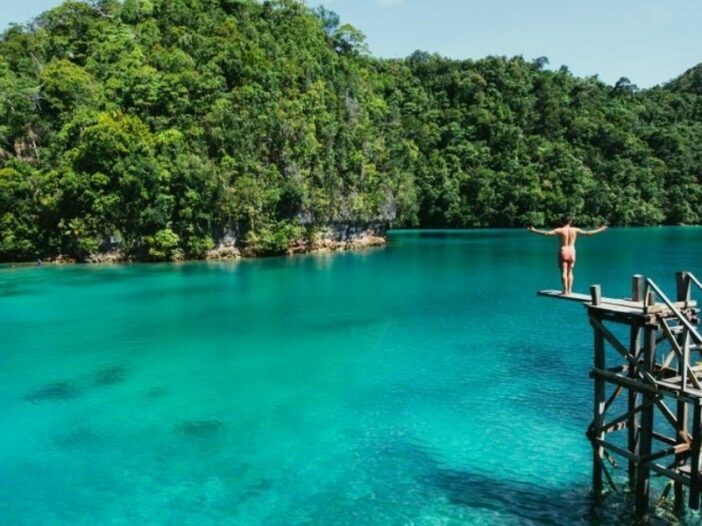 The palm tree-covered Siargao is the ultimate island paradise in the Philippines. By far my favorite island we visited, it absolutely stole my heart, with natural beauty in serious abundance. So here's my Siargao guide and itinerary, including where to stay, where to eat, things to do, and how to have the most amazing adventure scootering around this beautiful island.
Siargao is teetering on the edge of becoming an incredibly popular tourist destination. With more regular flights into the island, there are more and more foreigners flocking to its palm-lined beaches. BUT, it absolutely still holds in natural and authentic charm and is quite unlike anywhere else I've visited in Asia.
Where to Stay in Siargao Guide
The two main places to stay in Siargao are Cloud 9 and General Luna. Only ten minutes apart by moped/tricycle, it doesn't hugely matter which one you stay in. Cloud 9 is traditionally the surfer's paradise, whilst General Luna has a more backpacker vibe. We stayed in General Luna and loved it, albeit our accommodation was very basic. That seems typical in SIargao, so it's probably better to choose a sociable hostel in a good location over swanky amenities. We stayed at Salty Nomads, which definitely fits those two priorities.
Where to Eat/Drink/Party in Siargao Guide
The main street in General Luna has tons of food options. My personal favorites were:
Café Honest – vegan, vegetarian and budget friendly asian health foods on a gorgeous upstairs terrace.
La Carinderia – genuinely good Italian food, with fresh and homemade pastas.
Kermit Surf Resort and Restaurant – round the corner from Salty Nomads Hostel and off the main street, this was my favourite place in General Luna. Think fresh smoothies, eggs benedict, burcher muesli and pancakes for breakfast, and a proper pizza oven for dinner. Pro Siargao Guide tip: go early for dinner, or be prepared to wait 45 minutes to an hour for a table – it's worth it!
If you're into smoothie bowls, Shaka is the place to go in Cloud 9, right on the beachfront. With several branches across the Philippines, you can't beat Shaka for a healthy and delicious breakfast or afternoon snack!
With regards to nights out, Siargao does this really well. Every night there's a different bar scheduled as the place to go. People tend to pre-drink in their hostels and then head out together. Nights end early though for the early morning surfers!
Surfing in Siargao Guide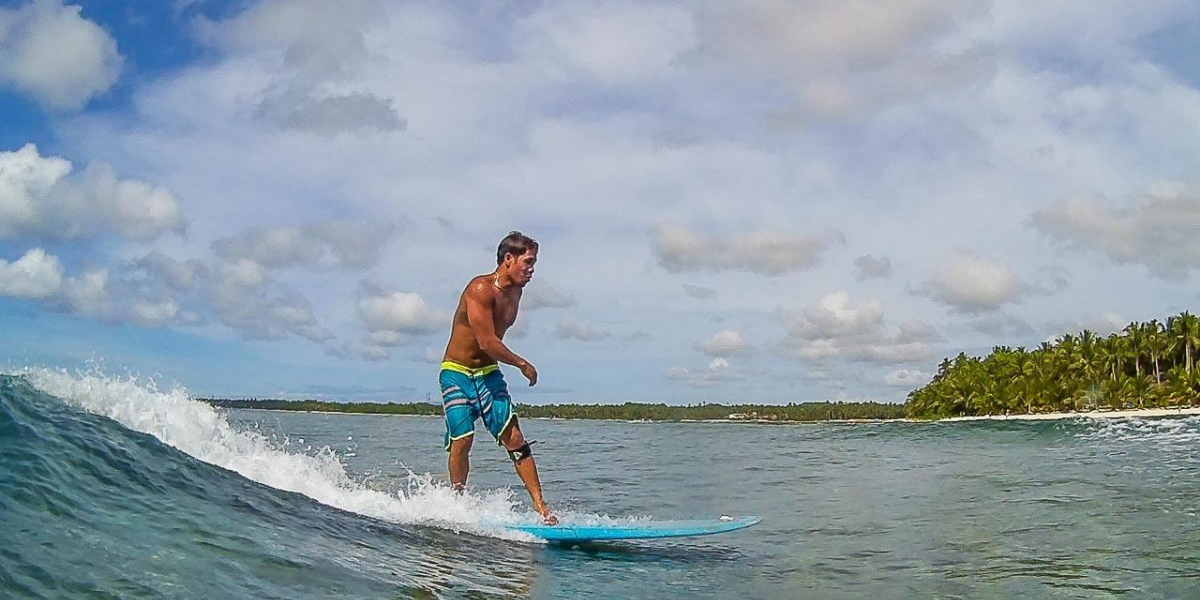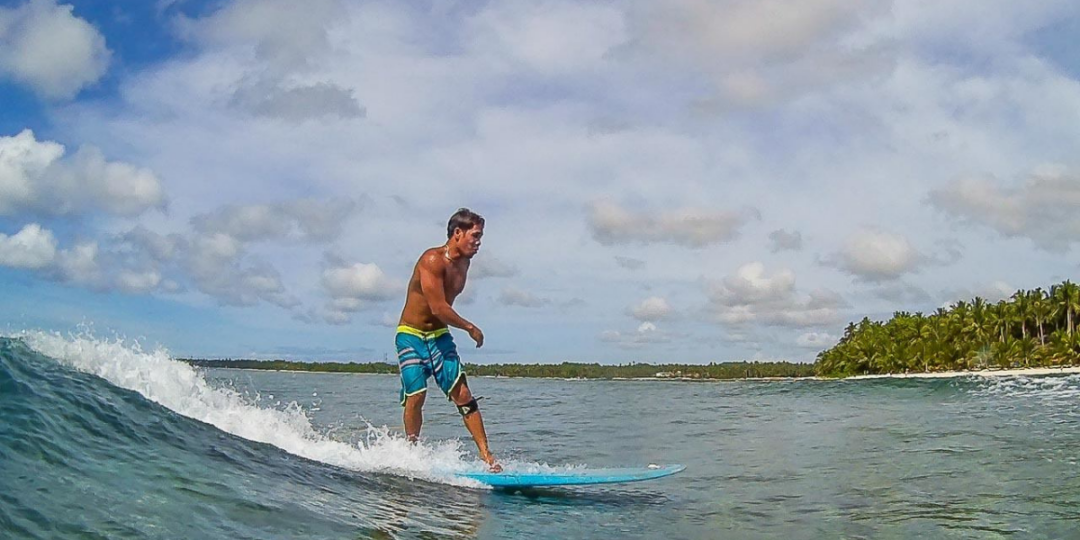 It would be impossible to write a Siargao Guide without talking about surfing – what this beautiful island is most famous for. Siargao hosts some of the best waves in the Philippines, and attracts the pros. Cloud 9 is the main surfing area, and there's plenty of board rental companies on the beach. The main break is out on the reef, and is therefore for experienced surfers only. Most companies will take you out to the reef on a boat.
As a relatively inexperienced surfer, I headed to Jacking Horse in Cloud 9, the smaller and safer swell. Pro Siargao Guide tip: it gets incredibly busy here for surfing, so go early in the morning. Reef shoes are essential, and I'd recommend having a lesson unless you really know what you're doing.
Motorbike / Scooter Itinerary Around Siargao Guide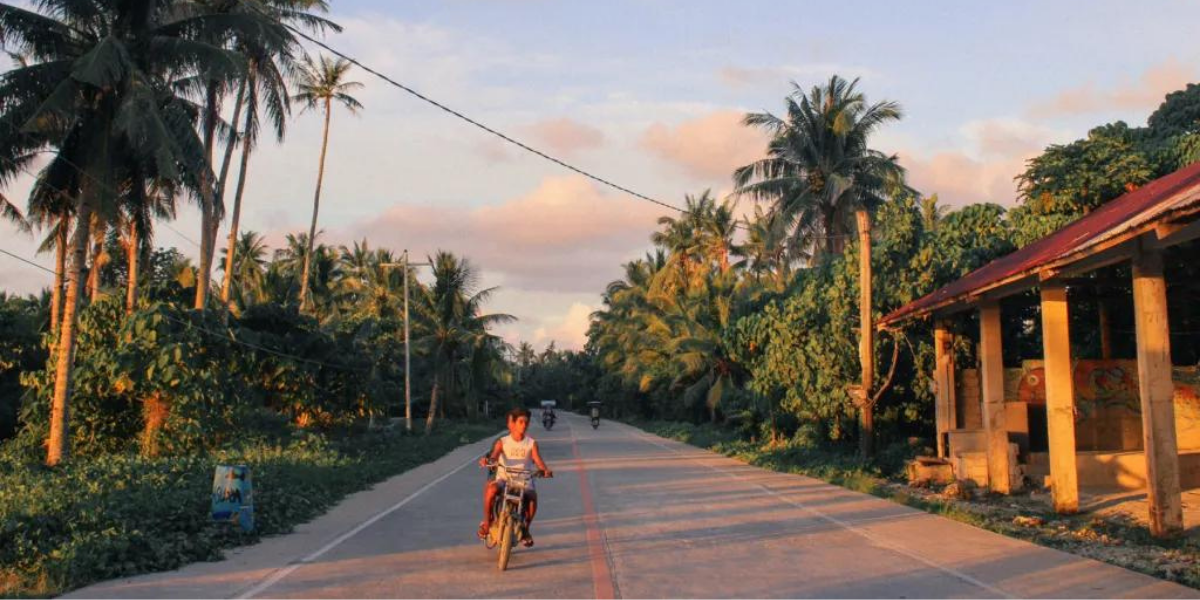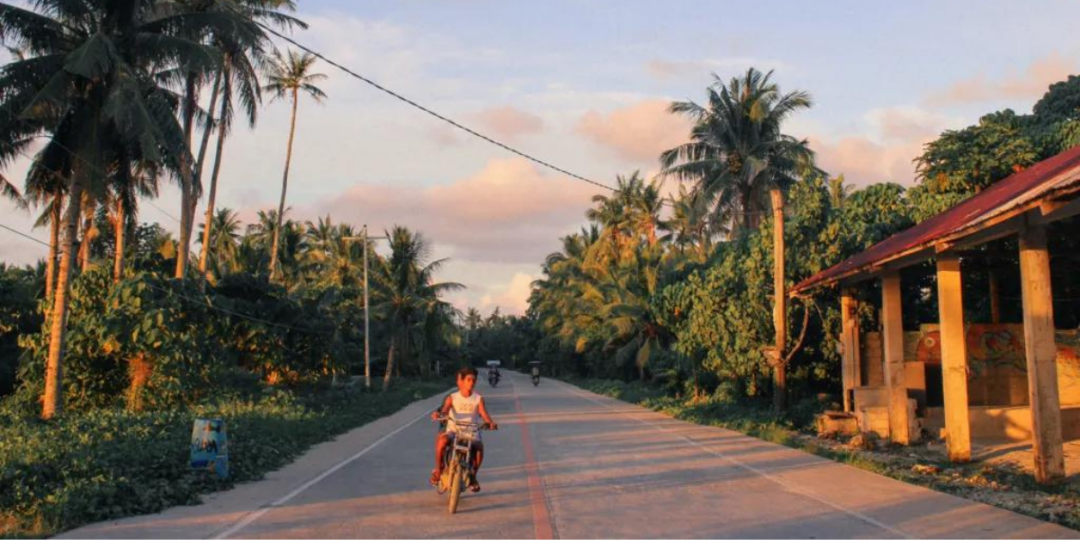 And now here's the best bit of the Siargao Guide. Hiring a motorbike or scooter really is the best way to see this beautiful island. As someone who's always been incredibly anti-moped, after seeing just far too many backpackers with scraped legs and broken limbs following accidents across Asia, I had vowed never to get on one. Until Siargao! The roads here are so much safer – relatively flat, well surfaced, and crucially, basically empty. Obviously, you can never be 100% safe (but are you ever?!) and you should make sure to get helmets included in the moped hire. There's literally one road that goes the whole way around the island, so it's impossible to get lost. The sights you see on the way are INSANE.
Cost: Moped hire starts at 400 Pesos (approximately 8USD) per day, including two helmets. One liter of petrol costs 55 Pesos (just over 1 USD), and we got through about 5 liters in two days of LOTS of driving. The moped hire was easy to organize through our hostel, Salty Nomads.
Day 1 of the Scooter Itinerary Around Siargao:
Pick up your scooter the night before, so you can head out for sunrise. Drive 10 minutes north from General Luna to Cloud 9. Walkout on the pier for sunrise… beautiful.
Jump back on the bikes and get on General Luna Road. That'll take you towards the Circumferential Road, the second turning on the right that goes north. From General Luna, it takes about 15 minutes to get to the turning. As soon as you turn off, the views get so beautiful so quickly, and within 10 minutes you can reach the Coconut Viewing Platform.
Here, I was SO desperate to get my hands on my new drone (waiting for me back home in England!), but my friends Hanna (@solarpoweredblonde) and Boyan (@boyanoo) had one, and Hanna has written a few drone tips for you (trust me, if you're into drones, take note as their content is incredible!):
"One of the best drone spots was the long straight road leading from the Coconut Tree Viewpoint. With dense palm trees on either side and a very long and straight road it's the perfect spot for a top-down or a drone shot that shows the vast amount of palm trees all around! I would recommend going early as the light is much better, during the day the light is so harsh you would have to use a high ND filter and the shadows would cover you if you wanted to be in the shot. We went during the day while it was cloudy and it was perfect conditions to drone in! No harsh light and no shadows. But make sure there are no cars coming if you want to be in the middle of the road, we had to run off the road a few times!
My favorite spot for a video with the drone was the Coconut Tree Viewpoint itself. As you fly low just above the palms you get the most incredible view of the millions of palms below. Again, it's even more impressive at sunrise or sunset. However, for sunrise, it's a 4:30 am start as this spot is about 30 minutes from General Luna. Sunset might be an easier option!" Check out Hanna's blog post here for more about Siargao, the Philippines, and general travel tips!
Hop back on the bikes and drive another 5-10 minutes North to find yourselves at Massim Bridge, where if you look to the right you'll find Siargao's beautiful rope swing above the river. You can park up here and pay a small 20 Peso entry fee to go and enjoy the rope swing and the gorgeous river surroundings.
Once you're done Tarzan-ing, it's time to continue North to Magpunguko Rock Pools, the final destination for Day 1 on the scootering Siargao Guide It's very important here to check the times of the tides in advance, as you can only visit during low tide. The beautiful crystal clear water is something very special, but be ready to battle the crowds. Pro Siargao Guide Tip: Once you've paid your 50 Peso (1USD) entry, don't be tempted to stop at the first rock pools you see, which although seriously stunning, are flooded with other people. Keep walking along the rocks, like the pools, although not as deep, actually continue for several miles!
Day 2 of the Scooter Itinerary Around Siargao:
Prepare yourself for a big drive today, as you circumnavigate the whole island. Since you've already hit the main spots between General Luna and Magpunguko the previous day, just head straight North past this in the morning. It takes about an hour of driving non-stop to get back to where you left off the previous day.
From Magpunguko, the drive North up the Eastern side of the island gets even more beautiful. Head up to Pacifico Beach for lunch, a smaller surfer town with a beautiful palm-lined beach, then continue up to Burgos for some serious tropical views.
Once you're up and over the headland, there's less to see as you drive South down the Western side. The waterfall at Santa Monica is worth a brief stop to cool off, and driving your bikes down Santa Monica pier is a very cool experience too.
Take Day 2 as a day to just enjoy driving – we drove for over an hour without seeing any other vehicles when coming back down South. It was magical!
And that's it! The ultimate Siargao Guide, hope it helps. Now go and enjoy this beautiful paradise!