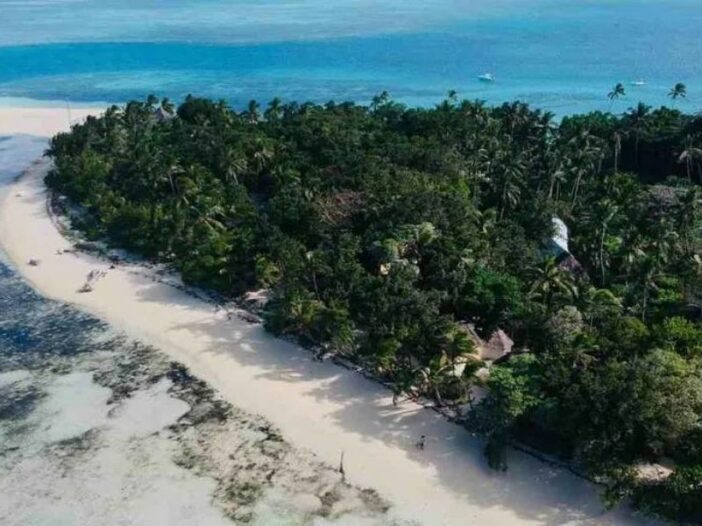 Fiji really is pure paradise. As much as we'd all love to spend forever and a day on its white sandy beaches, life (and budgets!) might get in the way of that. So here's the ultimate two-week Fiji itinerary, to make the most of your time in this stunning island nation.
Two Week Fiji Itinerary: Island Hopping or Mainland?
By far the best thing to do in Fiji is to spend a few weeks island hopping up the Mamanuca and Yasawa archipelago. These tiny white-sand-blue-sea islands are Fiji's most accessible slices of paradise, making for the ultimate two-week Fiji itinerary. I've traveled around the mainland before, and whilst it is so worth doing if you're short on time it's definitely better to prioritize the island groups.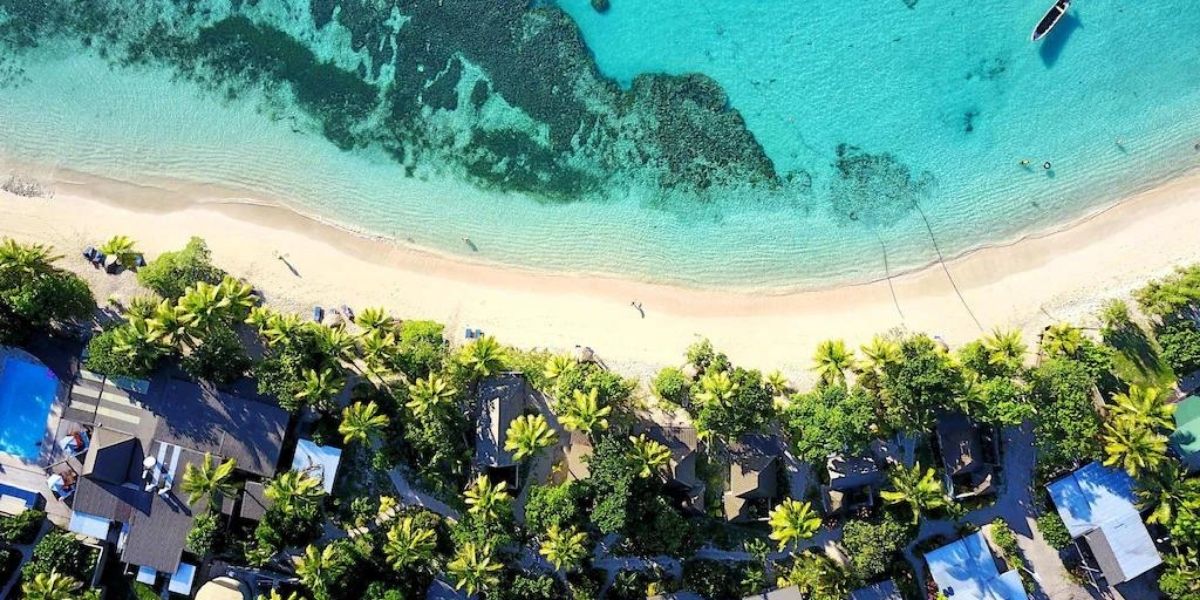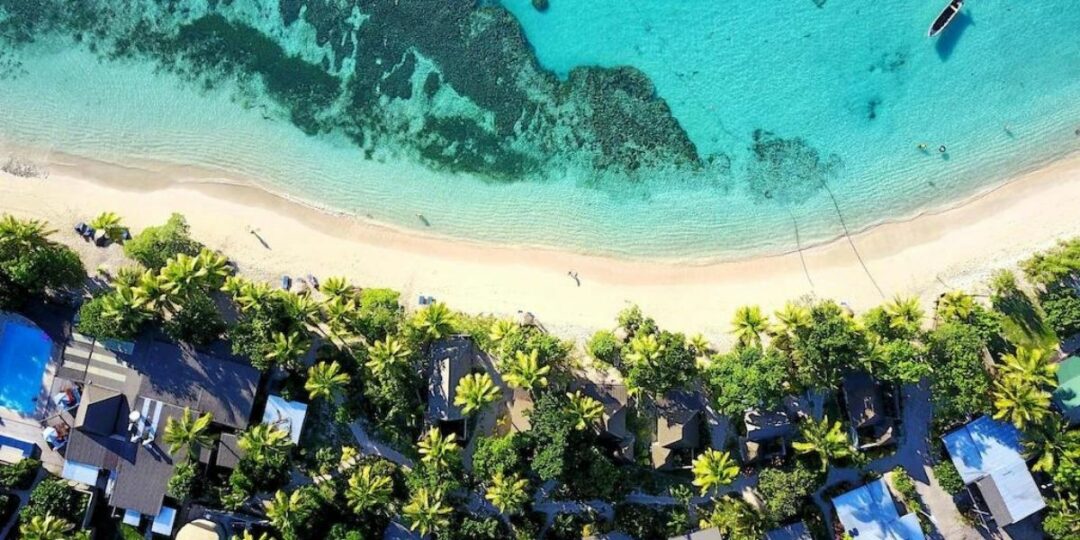 The islands are generally very small, each hosting one small village and one resort. Although the idea of staying at a resort may seem a little alien to the backpacking traveller, many resorts cater to a variety of budgets.
For instance, some island resorts will offer beach front bures (little cottages) that are suitable for luxury honeymooners willing to spend hundreds of dollars per night on their room, whilst they also have dormitories for backpackers.
These dormitories are very affordable, and generally really nice too. The only thing to note before you go is that due to the fact that each island is so small, with only one eatery option, the resorts enforce a compulsory meal plan charge.
This can range from FJD$80-120 per day, where the difference in price certainly reflects the quality of the food on offer. The meal plan charge is unavoidable so just embrace it, and make sure to follow this itinerary or read all about the best islands in Fiji to visit to ensure you end up at the islands with the best food.
It makes it all inclusive so you might as well kick back, relax, and enjoy some of the incredible dishes available at islands like Blue Lagoon or Octopus.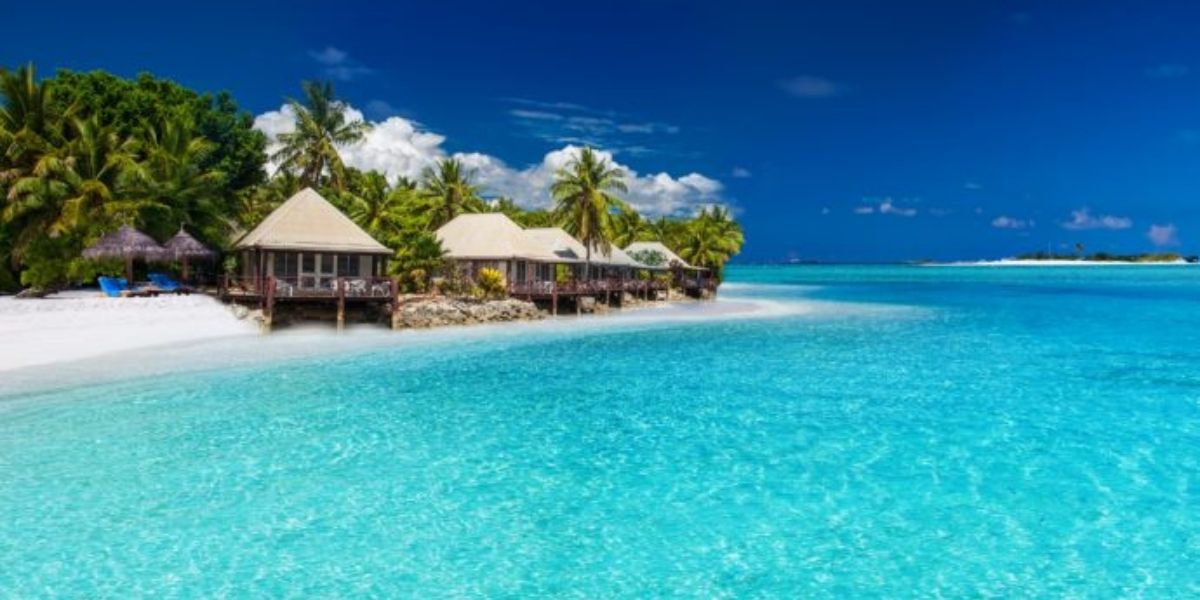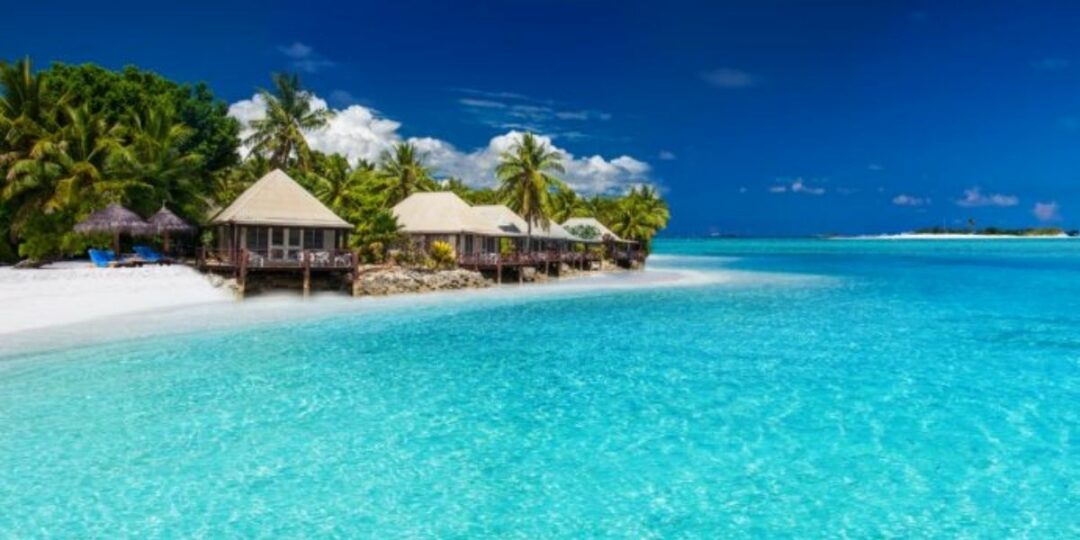 How to Island Hop in Fiji
If the idea of meandering from perfect beach to brightly coloured reef along an archipelago of world class islands floats your boat, you'll need to get yourself a boat pass for island hopping up the Mamanuca and Yasawa groups.
Every morning, a boat leaves Port Denerau in mainland Nadi, and travels the whole way up the Mamanuca islands to the northern tip of the Yasawas by early afternoon. It stops at 25 islands on the way, before turning round to come back again.
Therefore, each day a boat will pass each island twice, once going north and once going south. The idea is that you can gradually island hop your way north, then island hop your way south.
To pay for individual journeys on this boat is expensive, so luckily you can purchase a hop-on-hop-off 'Bula Pass' to allow you unlimited travel (in one direction only, north then south) for a specified period of time. You can purchase a Bula Pass with Awesome Adventures here. For this itinerary you'd need a 13 day Bula Pass.
Awesome adventures offer the Bula Pass in combination with accommodation, but I really wouldn't recommend this. They offer one or two 'coconut' accommodation options, that effectively act like stars for the hotel resorts – hence limiting you to a certain standard of island.
In reality, if you're on a budget but still want to experience the best islands, it's a good idea to visit a combination of one and two 'coconut' properties – which of course wouldn't be possible on the Combo Bula Pass.
This two week Fiji itinerary will allow you to save money on the one coconut islands, whilst still experiencing the best of the two coconut islands by staying in their dormitories.
Therefore, just go for the Bula Pass boat only option, and book your accommodation separately, with relevant links included below. Note: You must book accommodation in advance as the islands really do book up, plus, you won't be allowed off the boat without accommodation confirmed.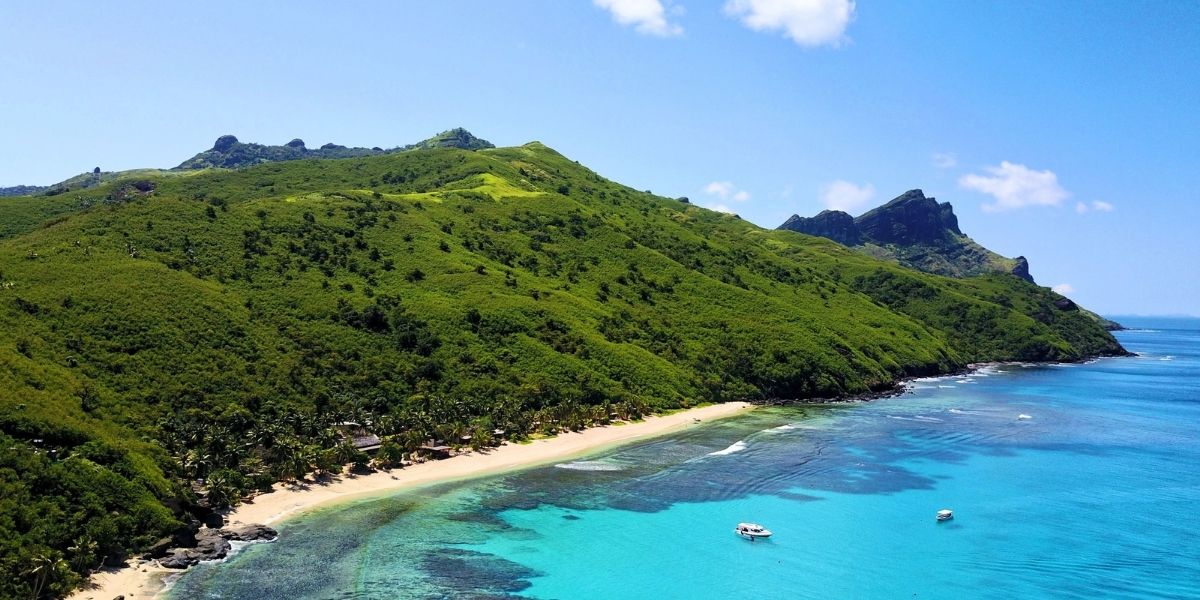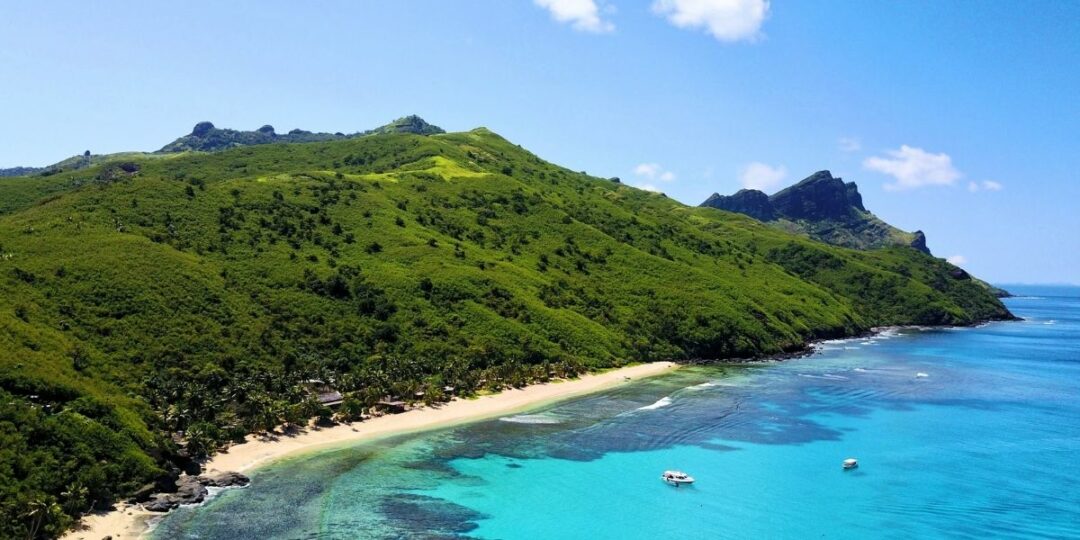 Two Week Fiji Itinerary
1. Arrive in Nadi
Night one.
The international gateway to Fiji, you'll probably be arriving by air into Nadi. Nadi isn't the capital city, and in truth, there isn't a whole lot to see or do in this port town. Don't linger for long – get a hotel for the night, recharge, and get ready for the real adventure to start tomorrow. Smugglers Cove is a great option for this, as they provide free transfers from the airport, along with a free coach to Port Denarau for your boat to the islands the following morning.
2. Beachcomber Island
Nights two and three.
It's the start of your holiday, so start the relaxation straight away on this tiny sand island. Typically, backpackers flood to Beachcomber for one key reason, to let loose and party. This has earned it the reputation as Fiji's main 'party island' but to be honest, it's whatever you make it. I've been here twice – one year we partied hard with over 100 of us in the bar each night, but the next time we took it much slower, largely because it was much quieter there that time. With its 120 bed dormitory, things can get pretty wild, but it's not like you have to get involved in it, and the island is still worth visiting even if this isn't your thing. Two nights on Beachcomber should be plenty of time.
Aside from the nightly party, Beachcomber is well worth a visit for the opportunity to head out to Cloud 9 – a double-layer floating beach club-style bar thirty minutes by boat into the ocean from Beachcomber. Days spent here have to be my favorite of all our time in Fiji and whilst it can be a little pricey, sipping cocktails and eating delicious pizza straight from the onboard pizza oven make it totally worth it. The water here is some of the brightest blues I've ever seen – so leap off the top layer and enjoy it!
3. Mantaray Island
Nights four, five, and six.
Linger a little longer at Mantaray Island (I'd recommend three nights) to give you the greatest chance possible of experiencing the best the island has to offer – the infamous manta ray swim. Every day, staff from the resort drive around the island in a boat, looking for the gentle giants of the ocean. And when they spot them, they radio back to the island, where their colleagues beat a massive drum. This is your cue – get your snorkel, and get down to the beach! They'll then take you for the most awesome snorkeling experience ever, out on a boat to the manta rays. It does feel a little expensive, at FJD$65 per person, but unlike other islands, if you go on the boat you're pretty guaranteed to see them.
Once you're done swimming with the manta rays, or whilst you waiting for that drumbeat moment, the island has a lot more to offer. The reef directly in front of the resort has some of the brightest coral and interesting marine life I've ever seen. I think snorkeling here might even be better than at the Great Barrier Reef! Sorry Aussies…! There's a dive shop here for organizing scuba dives, whilst this eco-resort's food is some of the best you'll find.
To save money, since this resort is one of the more expensive, stay in the dormitory here. It's a forty bed dorm but divided into little sections of four. It's air-conditioned and perfectly comfortable, allowing you to save enough money to do that incredible manta ray swim.
4. Long Beach
Nights seven and eight.
Here's your chance to finally get that paradise beachfront bure. As one of the significantly cheaper islands in your two-week Fiji itinerary, Long Beach is well worth visiting if you haven't been otherwise able to stay in a private cottage. It's a much smaller resort, allowing for a much cheaper price tag and meal plan. Expect for there to be only a few guests here, with the staff keen to organize whatever activities you'd like, including village trips, snorkeling trips, hikes, or even to try your hand at spearfishing at night time!
The cheaper price is certainly reflected in the more basic facilities and food options, but the chance to stay in one of their gorgeous see-the-sea-from-bed bures makes it an unmissable stop in your two-week Fiji itinerary.
5. Blue Lagoon
Nights nine, ten and eleven.
There's a reason why this place comes top of my list of the best islands to visit in Fiji. Blue Lagoon is incredibly special, and might even be my favorite resort in the entire world. Where palm tree-lined white sand is lapped by bright blue crystal clear water, Blue Lagoon is totally magnificent.
From the attention to detail of petals on dormitory beds to the phenomenal a la carte dining options, this resort has something to offer everyone – free snorkel gear, paddleboard and kayak hire; free twice daily yoga sessions; amazing hiking opportunities; cave trips; village trips; shark diving… not to mention a gorgeous pool and beach for hours of sunbathing.
Blue Lagoon is expensive, so if need be, hold back by staying in the dormitory again here. The beachfront bures here look so special… one day! The dorm is all single beds (no bunks!), and they give you beach and bath towels accompanied with flowers on your pillows each day – the best dorm in the world!
Food at Blue Lagoon is also the best of all the islands. Every morning you'll get a huge buffet spread, including egg and pancake stations, an a la carte lunch menu, and a three-course dinner menu too. Yes, the meal plan is pricey at FJD$119 per day, but it's worth every cent when the food is this good. What's more, it's all beautifully served in the open-air restaurant, just off the beach.
6. Octopus
Nights twelve and thirteen.
As you come to the end of your two-week Fiji itinerary, it's time to start hopping back down the archipelago south towards the mainland. Break the journey by staying over for a couple of nights at Blue Lagoon's sister resort, Octopus.
With many of the gorgeous touches that Blue Lagoon offers, Octopus is also one of my favorite islands in the Mamanucas and Yasawas. With a more family vibe, including a crèche for the little ones, Octopus won't disappoint. The beach here is possibly the best of all the resort beaches, with another incredible reef right offshore. The perfect spot to toast an amazing holiday.
7. Back to Nadi
Unless you're able to get a late-night flight out of Nadi on the final day of your island-hopping adventure, it's likely that you'll need to stay overnight at Smugglers Cove again before heading to the airport. Like on your outbound journey, a Smugglers Cove coach will provide a free transfer from Port Denarau back to the hotel, but you'll need to pay for a local taxi (FJD$14) the next day to get to the airport.
And that's it! The ultimate two-week Fiji itinerary, enjoy every second of it.