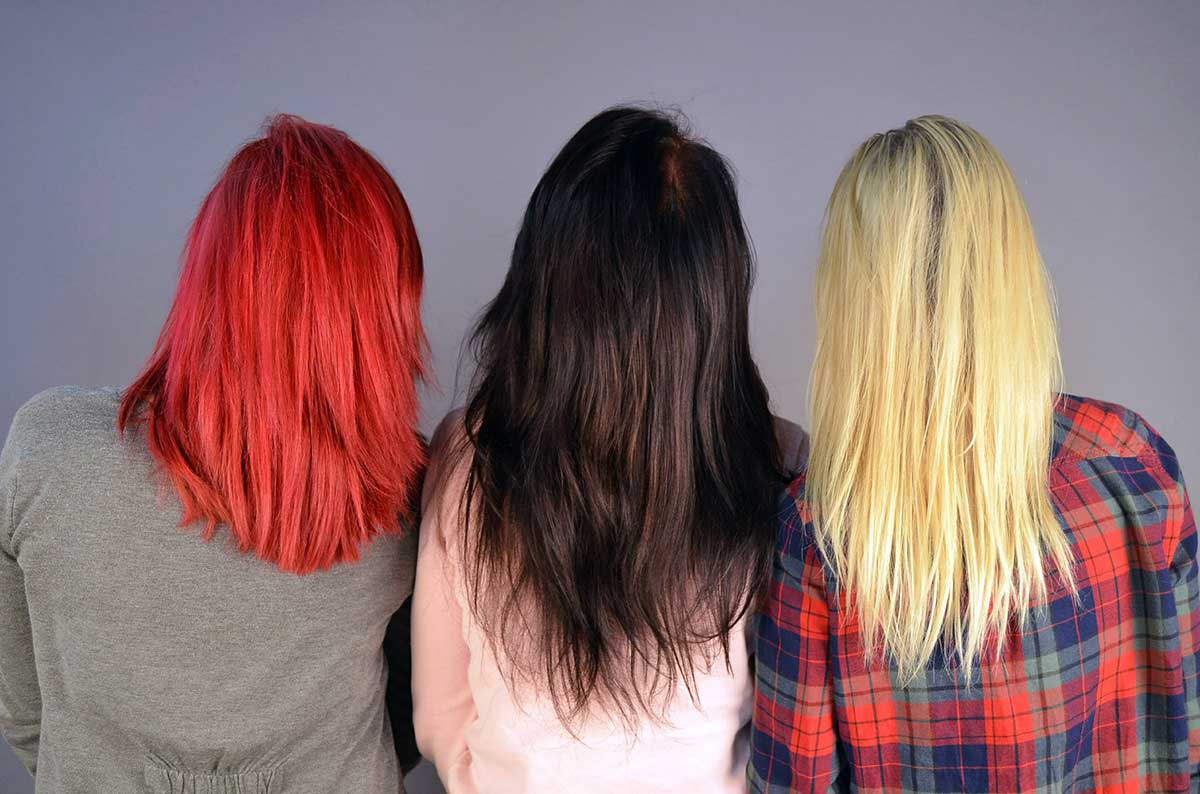 Asian women are especially known for their long, full and exotic hair. This is especially so among the Red Yao women in China. Asians' long hair is not by magic, but by a cheap and unexpected home product; rice water.
Yes, rice water! A huge percentage of the earth's populations consider rice as a basic food. However, not only rice but the water we pour down the drain is very useful to the hair. Rice water can, in fact, make you into Rapunzel!
What Is Rice Water?
Rice water is the milky and starchy water gotten after we wash, ferment or cook rice. The most common types of rice used are organic white rice and long-grain brown rice.
However, any other type of rice is also considered great for rice water.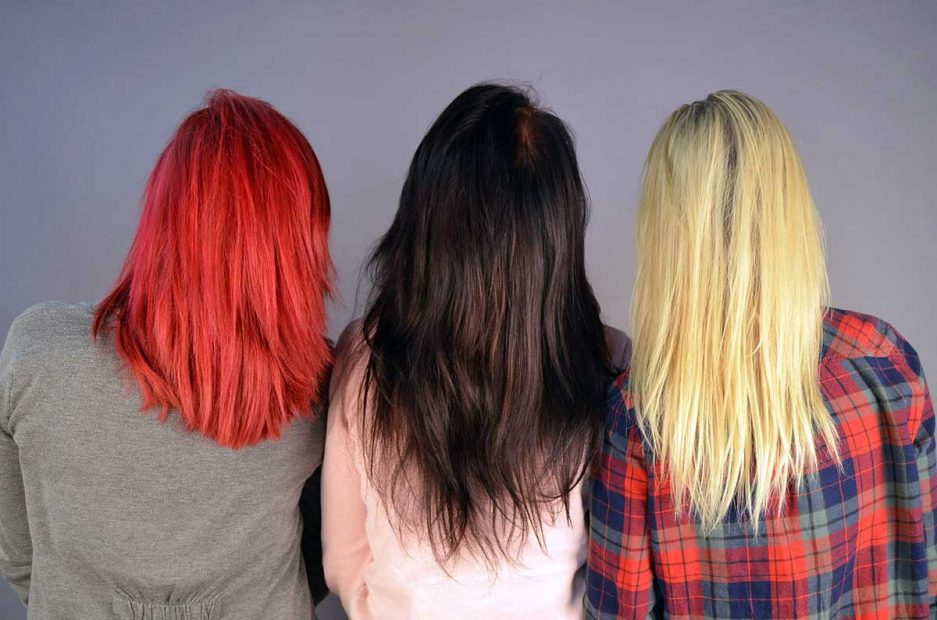 Is Rice Water Good For Hair Growth?
Yes, rice water is, in fact, excellent for hair growth. Rice water contains a lot of nutrients that supplement excellent hair growth. Out of the 18 amino acids required for the hair, rice water has been found to contain a stunning 8!
It contains about 15% of proteins that are essential in the revival of cell health. Inositol, the substance that turns rice water milky, is great for hair growth. The carbohydrate in rice water boosts hair cells with energy for hair growth. Hairguard.com has great articles about hair growth.
Benefit of Rice Water for Hair Growth
Encourages Hair Growth: There is nothing better than rice water to boost hair growth and prevent hair fall. Inositol in rice water is essential for moisturizing the hair to promote hair growth.

The RB-SCE property of rice water is a perfect hair growth stimulant as it contains linoleic acid and

y-oryzanol

that can induce hair to be in the

anagen

(growth) stage.

Makes Hair Shiny: Vitamin C and E present in rice water are great for keeping hair silky, full and shiny. The niacin in rice water also uses its vitamins to transform dull and weak hair in no time.

Because rice water also increases volume, the hair resultantly has a better texture and looks amazing.

Reduces Split Ends: Rice water has a very high protein content that is great for treating split ends.

Split end is different from frizzy hair (which is completely natural for some) however, rice water can tame even frizzy hair types reasonably. Split ends can be soaked in rice water to achieve the maximum result.

Cures Dandruff: Rice water can be used for fighting fungi that are responsible for dandruff.

The

Malassezia

which is dandruff causing property of fungi does not stand a chance against the

allantoin

and

selenium

present in rice water.

Protects Hair from Damage: The sun and heat can badly damage the hair and so can malnutrition. The body system does not consider the hair cells as essential cells therefore if your nutrition is not solid, your hair gets no nutrients until other body cells are served. This can cause great damage to the hair.

However, rice water has incredible properties useful in increasing hair elasticity and filling up holes caused by hair damage. In rice water, there is abundant inositol, also known as Vitamin B8.

The vitamin is great for fighting hair loss and baldness which can all result from damaged hair.

Removes Lice: Hair lice can be downright distressing. The 80% starch in rice water ensures that lice cannot live long in the hair. The anti-oxidants and mineral in rice water are excellent for managing lice.
Makes Hair stronger: It is not enough for the hair to grow in length and shine. It all becomes useless if the strands fall off at the slightest pressure.

Rice water is the perfect solution for increasing volume and making the hair stronger against winter wind or any other challenging situation.

The various amino acids in rice water ensure that the hair roots remain strong and brittle hair is strengthened.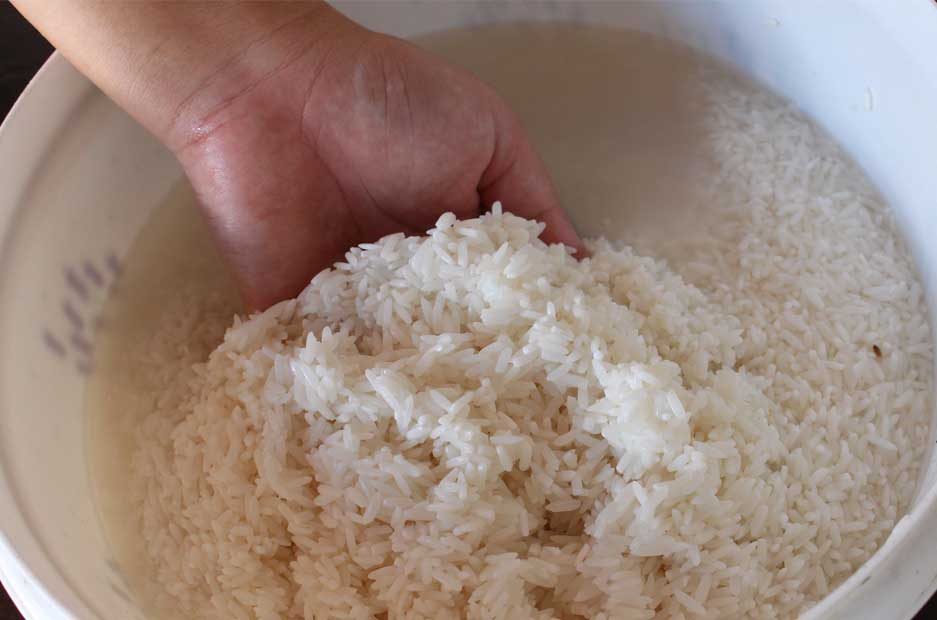 Methods of Preparing Rice Water for Hair Growth
PLAIN RICE WATER: Rinse half a cup of any rice of your choice to remove the toxins and dirt first. Then mix the rice with 2 full cups of water. Place in a bowl and soak for 20-30 minutes.
You can then use a spoon to stir the settled rice in order to release the minerals into the water. After this, sieve the water from the rice. The rice water is ready for use.
BOILED RICE WATER: You can mix half a cup of rice with 3 cups of water in a pan. Cook the rice for 12-20 minutes and strain the rice. Place the water in a jar and allow to cool.
FERMENTED RICE WATER: This is the most popular and most effective of rice water preparing methods. This method allows the water to ferment and take in all the necessary nutrients required. Although it produces a foul smell, this is only a proof of its potency.
Rinse half a cup of rice first after which you mix it with two cups of water. Pour the rice and water into a jar and cover. Leave the rice at room temperature for a day or longer. The rice should have a foul smell.
Mix with a spoon and sieve the rice. Pour the water into a pan and bring to a boil. Transfer the water into a bowl and leave to cool.
How to Use Rice Water for Hair Growth
As  Conditioner
Put 2-3 drops of rosemary essential oil and lavender oil in a cup of rice water.
Shampoo your hair.
Pour in the rice water.
Massage gently into the scalp.
Leave in for 10-20 minutes.
Rinse your hair thoroughly with lukewarm water.
Use at least once a week.
As Treatment
Pour the rice water into a spray bottle.
Mix in a few drops of lavender and coconut oil.
Cover and shake bottle thoroughly.
Wash or simply rinse the hair.
Divide hair into portions.
Take each portion at a time and spray from root to tip.
Cover with a shower cap.
Rinse with cold water after 15-20 minutes.
Dab the hair dry (preferably with a towel that isn't cotton).
Comb thoroughly and style.
Repeat this once every week.
Use As Shampoo
Mix 1 cup fermented rice with 1 cup of green or shikakai
Add 5 tablespoons of Aloe Vera juice.
Mix in 20 drops of lavender oil.
Mix in ¾ cup of castile soap.
Mix thoroughly and pour it into a bottle.
Wet your hair and put in the shampoo
Leave for 5-8 minutes.
Rinse off with tepid water.
Do this routine at least once a week.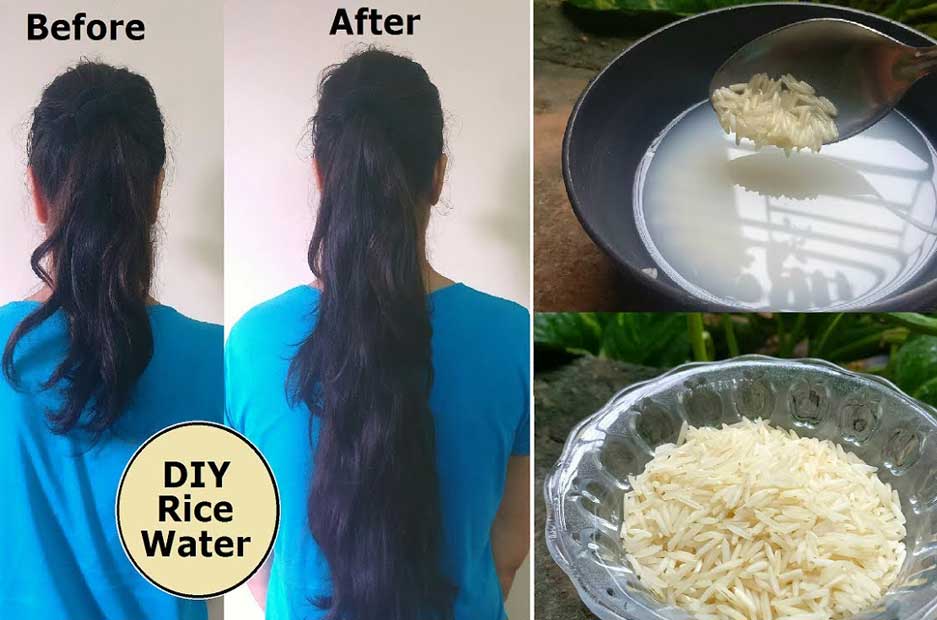 Tips for Washing Hair with Rice Water
Try out the milder methods instead of the fermented rice water if you have a delicate hair type.
When using the fermented rice water, dilute with half a cup of water first to test your hair's needs.
Start out with leaving the rice water in your hair for a short period of time and slowly prolong the time as you understand your hair's needs.
Do not leave the rice water in your hair for more than 20 minutes at a time (except you have very dry hair}. This is to prevent a case of 'Protein Overload' which can cause hair breakage.
Mix rice water with any oil of your choice for a better effect.
Will Rice Water Work for Everyone?
For every rule, there is an exception. However, rice water has worked so far for every user, regardless of their hair type. This is because rice water is not just a magic remedy but a remedy that works because of the presence of all the nutrients that the hair could possibly need. So far, rice water has been great.
Just follow the tips and use rice water as regularly as you can. You will see stunning results in less than two months. Not only will you have longer hair, but also you will have a very healthy and voluminous hair like the Red Yao women.