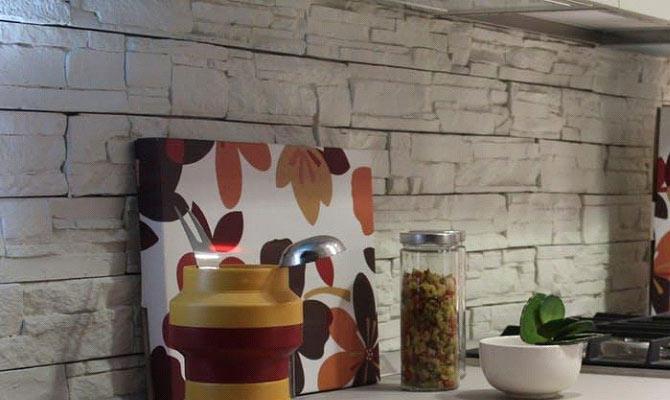 Creating more room in the busiest part of your house, that is the kitchen, comes down to two approaches. The first one is making it 'seem' bigger, with visual tricks while the other is actually providing more space. Though pushing walls may not be within the budget, you can make your kitchen roomier by removing clutter on and in your cabinets. You can also choose slimmer cabinets, less closed up upper cabinets, and smaller appliances.
How Can you make your small kitchen look modern and more generous for you and your family? Here are some of the most important tricks and hacks you can use to make your kitchen more spacious and inviting.
Downsize your appliances
A double door refrigerator might seem appealing, at the first glance, but it can never work in a smaller kitchen. Though they seem grand and provide lots of storage, still most of us don't even need that much room. Getting a refrigerator of a more reasonable size will take up less room in your kitchen, but it will also be more energy-efficient.
A good size stove is important, but if you aren't a cooking loving foody, you can save up some much-needed space by choosing a somewhat smaller stove.  You can also combine two appliances into one by combining a coffee maker and bean grinder into one machine to save space on the counter. The same goes for the exhaust hood and the dishwasher. Opt for smaller ones, so that you can have more room for cabinets.
It is also important to position your appliances properly, especially the fridge, the stove, but also the sink. Though they have to be away from each other, try to create longer undisturbed countertops and, even more importantly, try to avoid creating unusable counter space, like a few inches in a corner.
Slim down your cabinets
Just like you can choose smaller, slimmer appliances, you can do the same with your cabinets. Especially in the kitchen, storage is a big problem, so planning is crucial. The object is to find the perfect balance between having enough storage and counter space while also freeing up space as much as possible. By choosing cabinets which are a bit slimmer, you can create more room to move around.
Though you might feel that you absolutely need all of the upper cabinets, you actually only require a few. Keeping a few closed up upper cabinets is a good storage solution, but they should be combined with another approach. One possibility is to put in glass doors on some of the cabinets. Another approach is to keep the cabinets and remove the doors completely. The third one, which is getting more and more popular, is to remove some of the upper cabinets and replace them with shelves.
These alternative upper storage solutions are best as decorative solutions or for items used frequently.

Choose the right color scheme
Bold colors are the trend nowadays, but in order to create more space in your kitchen, visually, you should primarily opt for lighter and monochrome colors. White is the best choice as it gives the feeling of openness and even cleanliness. This is the best color choice for your cabinets but also for your walls. Choose the countertops in the same color family, like grey or ivory.
If you choose reflective surfaces you can make your kitchen feel even more spacious, in the same way, a mirror or a window do.
Though your kitchen may seem simple, it doesn't have to look dull. By painting parts of your walls in lighter shades of bright colors, like orange or green, or by creating a mosaic backsplash wall made from natural stone tiles you can add more visual interest without sacrificing the visual airiness.

Remove the clutter
The last one is easier said than done. Though we have all accumulated large quantities of smaller appliances and love having most of our cooking gear on hand, for a more spacious kitchen it is better to go minimalistic. Put away everything that can be stored, as clutter will also take up the room, physically and visually.
Though you probably don't intend or want, to expand your kitchen, there are still some design ideas you can use to create a more spacious kitchen. Rethink how large your appliances have to be to serve their purpose and you might save up some space, and even use less energy, in the process. The right choice of colors will make your kitchen more enjoyable for your eyes, as it will give the illusion of even more room.
Photo Credit:Unsplash.com
[adinserter block="2″]