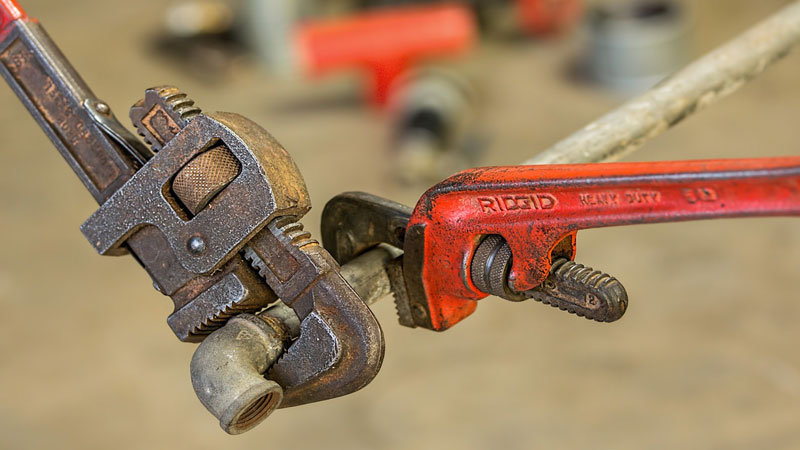 No matter how beautiful and well furnished your house may be, if it still has leaking tap water and the plumbing system is jammed, then you may not have a great home after all.
Even for a simple issue related to your plumbing system, a reliable plumbing agency is not that easy to get since there are a lot of agencies that provide very poor plumbing services and most of have cheaper rates than those who do better plumbing service.
Major Plumbing Repairs
Major plumbing repairs could mean that a large portion of your drainage system is blocked or is leaking all over the place. These types of repairs might consider opening up a portion of the houses interior to look for the blockage and fixing everything that needs some fixing.
A good example of a major plumbing repair is a renovation of an old house. Usually, the plumbing is done simultaneously with the ongoing construction of the house as to make the home more pleasing to the eye. Water lines and other tubes can be installed inside walls so as to conceal them.
In addition, these pipes are also properly sealed at joints to prevent leakage of water or cause any electrical mishaps like damaging underground wiring. These pipes also have to be non-flammable and heatproof when they are placed near stoves or fireplace.
Fixing sewage blocks and leakage can also be considered a major plumbing operation. Pipes used in fixing the sewage system have to be plastic or have some kind of coating to prevent corrosion.
What are the most common major plumbing problems?
Corroded pipes

– Old pipes may be out of your sight, but don't leave them out of your mind.

Old plumbing materials like iron and galvanised steel corrode

and this may lead to low water flow inside the pipes or pinhole leaks. If you are not sure how old are the pipes in your home check the faucets and shut-off valves. If they look old or there are no shut-off valves probably the pipes are very, very old, too.

Tree roots

– It's hard to predict what is going on under your house and how far the tree roots have reached. Sometimes they find their way into the pipes and may cause leaks or complete blockages in sewer pipes. In some cases the damages are serious and the pipe may require complete replacement. This job is better to be completed by experienced plumbing contractors who know how to investigate the problem.

Pipe burst

– There are many reasons that may cause a pipe leak or burst. These repairs are hard to complete by yourself because you have to find where is the real problem. It's a common problem to see running water down the walls or the first-floor ceiling caused by a leaking pipe on the second floor of your house. Plumbing repairs of problems like this involve removing the damaged area or looking between the walls to determine the exact location of the leak.
Minor Plumbing Repairs
Leaky fixtures.

Slow draining sink.

Clogged shower drain or bath

Clogged toilet.

Running toilet.

Low water pressure.

Pipe leaks
Problems such as leaking faucets, faulty shower repairs, sink and basin replacements, toilet repairs, and dripping pipes are just a few examples for minor plumbing repairs within a property.
Plumbers usually just install new pipes and other necessary parts to stop the leaking of water. Aside from leaking pipes, plumbers can also help you find relief from blocked drains and kitchen or bathroom fittings that are damaged.
Leaky fixtures

are among the most common minor plumbing repairs and you don't have to stress about. Usually, this problem is caused by loose component or ageing faucet.
Slow draining

 – If you notice that your sinks, showers or basins are draining slowly this may be the first sign of a clog forming deep in your sewer line.
Running toilet

– Toilets typically run when the flapper valve that lets water flow from the tank to the bowl does not fits properly. To prevent a waste of up to 200 gallons per day don't underestimate the problem and contact your local plumbing contractor.
Low water pressure

– Common cause of this problem is a build-up of debris or sediment on faucet aerators. These mineral deposits collect on inner surfaces of aerators and shower heads are slowing the water flow significantly.
Pipe leaks

– Professional plumbers always have a good idea about factors that can lead to pipes leaking or breaking. Aside from fixing the main problem, these guys also provide measures that prevent these damages from occurring in the immediate future.
How to be sure you are calling a good plumbing contractor?
A good and reliable plumbing company should always be available in case emergency situations may arrive. They should be ready to provide their services in these types of situations to prevent further damage in your home or establishment.
"As a professional, I would always advise people to do a thorough check of any potential plumbing company that they're about to approach", shared Shem Bruce, a tradesman professional at the Fantastic Handy Plumbers from London, "Make sure to check all their online reviews and even google the company name for any potential forum complaints. Bear in mind that many of the plumbing companies on the market might have fake reviews, so try to distinguish the genuine professionals from the rests."
What to ask your plumber?
It is also good to talk to the tradesman about the cost as well as any other expenses before the start of the actual project. This way you will avoid any additional charges that might come as a surprise.
As professional plumbers provide excellent services, they should also be privileged to do so. When you're on the look for a decent company that is fully licensed, always ask tradesmen to verify their eligibility.
Once you have made a decision on which company to choose, you won't have to worry for the safety and wellbeing of your piping.
What are the benefits of calling a professional plumbing contractor?
A good thing about these agencies is that they will not hesitate to tell you anything that you need to know about your house's plumbing system; from the visible taps to the pipes located underground. Choosing a good plumbing service not only saves you time and resources, it can also make your life easier and more enjoyable.