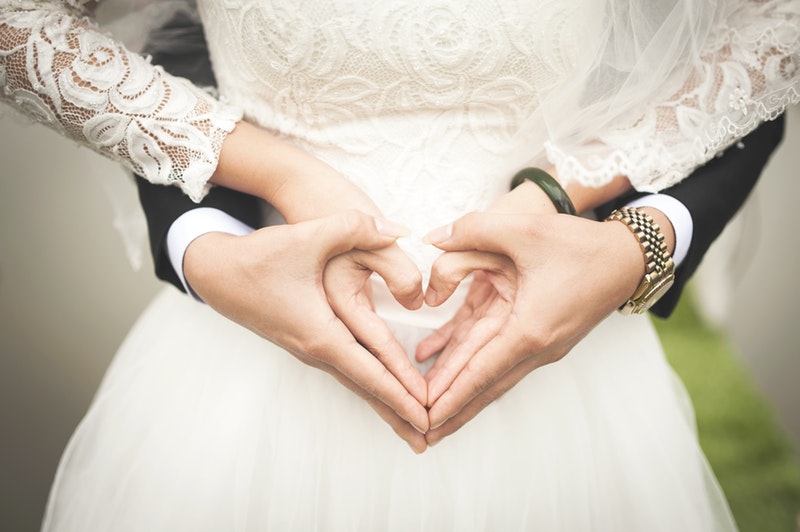 Is your wedding on the horizon and you are wondering how to make it as romantic and ideal as possible? Then you will be glad to learn that one of the best ways to enhance your wedding experience is to learn a few short wedding sayings or quotes and use them in your wedding invitations, speeches, etc. In this article, you will discover the most charming words on love and marriage to make your wedding memorable and truly special.
The Best Quotes and Sayings for Your Wedding
A perfect wedding requires many things. But one of the key elements of an ideal wedding experience are the words: in your invitation cards, in your toasts, wishes, speeches, etc. The language you use has to be charming, romantic and sweet. However, not everyone has a natural-born talent for poetry! You could try to come up with a quote of your own, but consider the list of the best wedding quotes below first. Let's start with the best wedding quote, in our opinion:
"I promise you to lay my heart in the palm of your hands. I promise you me."— Meredith, a character from Grey's Anatomy.
This must be the most charming quote for your wedding. These must be the most charming words one can say to his or her loved one. But one quote is not enough. You will undoubtedly need a much wider range of words for your entire wedding. You will need plenty of various quotes for the invitation cards, toasts, and most importantly, the words you will want to say to your loved one. This is why we have built a long list of the best quotes and sayings for your wedding:
"When someone else's happiness is your happiness, that is love." — Lana Del Ray, singer
"Two hearts in love need no words." — Marceline Desbordes-Valmore, French poet
"You look good wearing my future." — Keith, character from Some Kind of Wonderful
"Love is composed of a single soul inhabiting two bodies." —Aristotle, philosopher
"At the touch of love everyone becomes a poet." —Plato, Symposium
"Happiness is to hold flowers in both hands." —Chinese proverb
"Yours is the light by which my spirit's born:
yours is the darkness of my soul's return
—you are my sun, my moon, and all my stars" —E.E. Cummings, #38
"Love is a lot like a backache. It doesn't show up on X-Rays but you know it's there." —George Burns, comedian, actor, and writer
"I would find you in any lifetime." —Kanye West, musician
"Hear my soul speak. Of the very instant that I saw you, did my heart fly at your service." —William Shakespeare, The Tempest (Act 3, Scene 1)
"I know no ways to mince it in love, but directly to say 'I love you.'" —William Shakespeare, Henry V (Act 5, Scene 2)
"To be brave is to love unconditionally without expecting anything in return." —Madonna, musician
"Three words. Eight letters. Say it, and I'm yours." —Blair, character from Gossip Girl
"Life is the flower for which love is the honey." —Victor Hugo, French poet
"To live without loving is to not really live." —Molière, French playwright
"Love is a canvas furnished by nature and embroidered by the imagination." —Voltaire, French writer and philosopher
"Love is absolute loyalty. People fade, looks fade, but loyalty never fades. You can depend so much on certain people; you can set your watch by them. And that's love, even if it doesn't seem very exciting." —Sylvester Stallone, actor
"Have you never met a woman who inspires you to love? Until your every sense is filled with her? You inhale her. You taste her. You see your unborn children in her eyes and know that your heart has at last found a home. Your life begins with her, and without her it must surely end." —Don Juan, character from Don Juan DeMarco
Final Thoughts
A wedding is perhaps the most important day in one's life. Every little detail matters, and especially what you say. That's why you want to be picky and careful about your language. You don't have to use many words; you just need the right ones. Select the quotes which you find the most romantic and which you believe will touch hearts. Just say them and this day will be remembered forever!