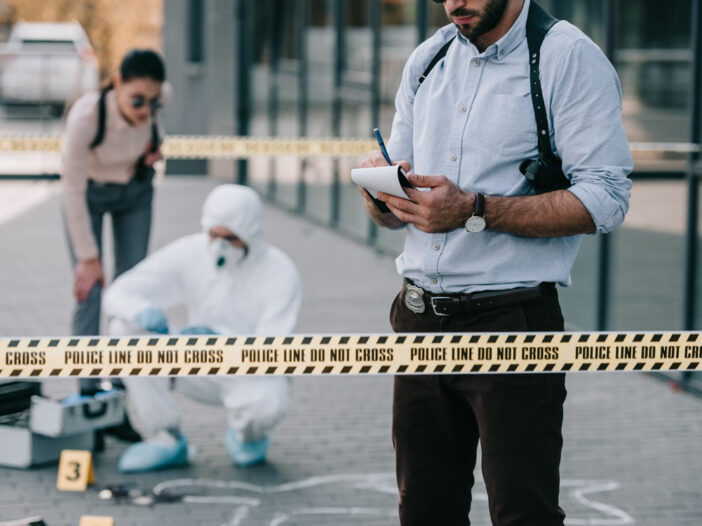 Criminologists are experts in interpreting the causes and perpetuation of crime. They explore how societies come to resolutions when it comes to the law and what policies, traditions, and events could lead to a rise or drop in criminal activity.
Some use data, and others rely on interviews with law enforcement officials or prison inmates. Criminologists also work with other professionals in the justice system, such as prosecutors, judges, and lawyers.
What Kind of Skills Do You Need to Become a Criminologist?
Criminologists come from many backgrounds and hold very varied skill sets.
For some, it is a calling that they have felt since childhood, while others want to start this career due to a passion for justice or a desire to help at-risk youth.
The study of criminology is not for everyone, but it is for those who want to make a difference in the lives of others.
In the United States, criminologists must hold certain educational qualifications to qualify for jobs in public and private organizations.
The majority of required education falls under the category of either an undergraduate or graduate degree. The type of degree you hold will determine what other qualifications you will need to apply for a position as a criminologist in various fields.
A few traits that are shared by most criminologists are:
They Are Willing to Observe and Study
Most criminologists are self-proclaimed "watchers" who like to monitor activities and human behavior.
In order to do good research as a criminologist, you must be able to keep an eye out for specific details in both your work environment(s) and the rest of society.
They Are Deeply Interested in People and Their Opposites
A criminologist must have a passion for people.
They have to be able to open their mind and heart to the deepest depths of one person's soul or the most despicable person's actions.
There are no crimes that are too deep or profound for a criminologist to study or understand.
They Are Comfortable Talking with and Gathering Information from Law Enforcers, Criminals, and the Public
Criminologists are used to asking questions and listening to people's stories.
They understand how different people live in their daily lives and how they perceive crimes or social issues.
Criminologists value your input as much as they value their own.
They Have a Strong Sense of Justice
A criminologist must have a strong sense of justice or be able to relate to it on some level in order to research and teach about justice issues.
They also need to be able to empathize and relate to people, including the victims of crimes.
They Are Good at Explaining Logic and Math
Criminologists use numbers to solve problems in their research, so they have a strong grasp of the idea of linear order and the importance of logical reasoning in their studies.
This helps them when trying to accurately explain their findings of crime rates or changes in certain offenses by looking at trends over time.
They Can Work Together with People from Many Shifts of Life and Different Fields
A criminologist needs to be a good team player who can work with people from different socioeconomic backgrounds and majors.
They Are Good Communicators with a Love for Writing
Criminologists are much like writers.
They want to share their knowledge and experiences with others in a way that is digestible and easily understood.
Good communication skills are something a criminologist must have in order to effectively communicate the conclusions they come up with after studying many different crimes or issues.
They Have Strong Motivation to Learn More About Crime
A criminologist has to be very motivated to work toward his or her goals in life, even if they are not entirely clear at first.
They have to be willing to work hard and continue on their path, even when it gets a little bumpy.
They Are Willing to Work in Many Areas of Crime
Criminologists tend to stick to one specific area of crime, but that is not always the case.
Some criminologists find themselves working in many areas of crime, such as juvenile justice and the court system.
They Are Good at Solving Problems
Criminologists are problem solvers by nature, so they have a natural desire to solve problems across all fields that they study.
Being a problem solver is not necessarily a skill that can be taught, so this trait tends to be innate in a person.
They Are Genuinely Interested in Making a Positive Difference
A criminologist must love what they are doing; they must be committed to helping others, even though the difficult times are sometimes unavoidable when learning about crime and justice issues.
They must be willing to go above and beyond the call of duty and be their best selves in order to make a positive difference in the world.
They Are Willing to Work Long Hours
Criminologists can work very long hours at times, as they are passionate about their work, but this is one of the easiest traits to fake and one of the most important aspects of being a criminologist.
Being willing to work long hours will help you get to see a wide range of different crimes over time.
They Have Strong Motivation and a Desire to Learn
A criminologist must have a strong desire to learn more about crime and the justice system every day.
They need to be full of curiosity about everything until they find out exactly what is happening in their head, on paper, in other countries, or throughout the entire world.
Conclusion: Your Path Toward Becoming a Criminologist
Criminology is a career that has many different facets to it, from academic research to consulting on legal cases and the court system.
It is a job that requires a lot of hard work and dedication in order to do research on crime and help people with their questions about the crime.
The best way to start your career as a criminologist is by contacting your chosen university and asking them about the requirements for obtaining a bachelor's or master's degree in criminology.