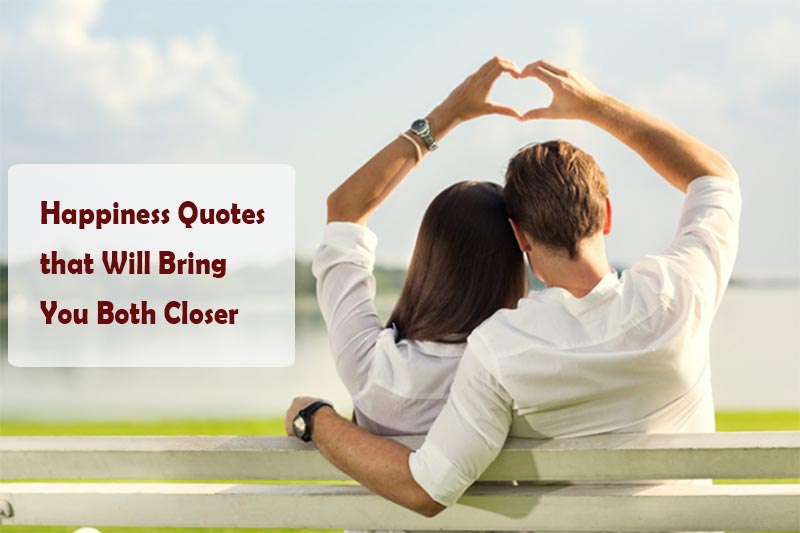 What is happiness? It's a question that you ask yourself regularly and every time your answer pushes you to begin your personal development and realize that happiness is your responsibility.
You control your life and just you decide in your mind what makes you happy.
However, when you find the right person and have serious relationships, it's quite natural that you want to make your partner happy and smile.
One of the easiest ways to do so is to use cute and romantic happiness quotes. Actually, you make me happy quotes can help you be closer to each other and make your life much sweeter.
Here is a collection of the top happiness quotes that can not only improve your relationship but also change your attitude toward life.
Being Happy Quotes
"Happiness depends upon ourselves."– Aristotle
"The first recipe for happiness is: avoid too lengthy meditation on the past."– Andre Maurois
'The talent for being happy is appreciating and liking what you have, instead of what you don't have." – Woody Allen
"If you want to be happy, set a goal that commands your thoughts, liberates your energy, and inspires your hopes." – Andrew Carnegie
"Optimism is a happiness magnet. If you stay positive, good things and good people will be drawn to you."– Mary Lou Retton
"Happiness is that state of consciousness which proceeds from the achievement of one's values." – Ayn Rand
"True happiness is not attained through self-gratification, but through fidelity to a worthy purpose." – Helen Keller
"Being happy doesn't mean everything is perfect. It means you've decided to look beyond the imperfections."– Unknown
"Learn to let go. That is the key to happiness."– Buddha
"True happiness…arises, in the first place, from the enjoyment of one's self." – Joseph Addison
You Make Me Happy Quotes
"My love, you made all my spiritual pain go away and filled my heart with boundless love. Thank you for making me happy." – Unknown
"You make me happy even with a single word you say, you're my inspiration." – Unknown
"I cannot imagine a life in your absence. You are like the breathe of air that I need to live, the drop of water in a thirsty desert. I need you like a bird needs the skies to go higher." – Constantine Jake
"What is happiness? Happiness means to cook together, laugh together, observe the meteor shower, make common plans and fulfill them together. Happiness for me is you." – Unknown
"If I could have just one wish, I would wish to wake up every day to the sound of your breath on my neck, the warmth of your lips on my cheek, the touch of your fingers on my skin, and the feel of your heart beating with mine… Knowing that I could never find that feeling with anyone other than you." – Courtney Kuchta
"The truth is I like you. A lot. You make me happy, you make me laugh, you are smart, you are different, you are a little crazy and awkward and your smile alone can make my day." – Unknown
"Each step I make in this life I make together with you, in happiness and sorrow you are with me, when I feel down, you give me your helpful hand. Thank you for being yourself and thank you for being with me, I love you." – Unknown
"You are my sunshine, my only sunshine. You make me happy when skies are grey. You'll never know, dear, how much I love you. Please don't take my sunshine away." – Jimmie Davis
"Every single day I want you to be happy and full of joy, just like you make me happy by just passing through my mind." –  Donna White
"I love the way you look at me, the way you touch my hand, kiss me and tell me: "You are mine". You make me happier with each passing day." – Unknown
You Make Me Smile Quotes
"Thank you for making me laugh when I'd almost forgotten how to." – Pam Brown
"Thank you so much for making me smile, for making me laugh and always pushing me to go after my dreams and not letting me fail. Thank you for being you. You are my rock and you make me feel confident in myself!" – Unknown
"Every time you smile at someone, it is an action of love, a gift to that person, a beautiful thing." – Mother Teresa
"So many of my smiles begin with you." – Unknown
"I smile because it is a wonderful day with a wonderful person – you. You make me happy." – Unknown
"I thank this world because it gave you to me, only you make me smile and make me happy." – Unknown
"Before I met you, I never knew what it was like to be able to look at someone and smile for no reason." – Unknown
"You make me smile like the sun, fall out bed, sing like a bird, dizzy in my head. Spin like a record crazy on a Sunday night. You make me dance like a fool, forget how to breath, shine like the sun buzz like a bee, just the thought of you can drive me wild. Oh, you make me smile." –  Uncle Kracker
"I cannot express how much I love you and cannot even describe how special you are to me. But all I can say is that… My world is smiling whenever you are with me." – Unknown
"All I know is, you are the person who never fails to make me smile." – Unknown
According to the data of the latest World Happiness Report, the USA ranked as the 13th happiest country in the world.
Of course, it's pretty hard to affect the data of the report, but you can try.
Show your feelings and emotions to your loved one using these being happy quotes, you make me happy quotes and you make me smile family quotes.
Such inspiring quotes make your partner feel loved as well as help motivate and encourage.