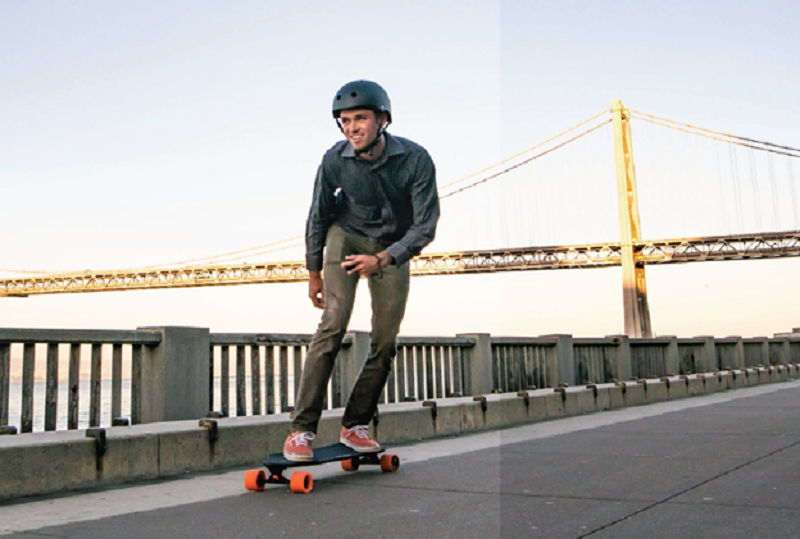 Getting from A to B has never been this easy or this much fun.
ExWay USA has taken the electric skateboard to a whole new level and has produced what they call the "most intelligent skateboard" ever.
The ExWay X1 is a thing of beauty and it not only looks great but performs brilliantly. It is the ideal way to get around without spending a fortune on gas or having to worry about traffic.
The X1 is versatile enough to suit beginners while still exciting the more advanced skateboarder. It has a user-friendly Bluetooth remote and the ECS or electronic speed control offers four-speed options depending on experience and the terrain.
It has an energy saving mode to get maximum distance as well as an advanced mode. With a top speed of 25 mph, you will not be disappointed.
Electric skateboards are nothing new but never have they been this good. The ExWay X1 has it all. The smooth acceleration curve allows for a quick and easy start-up and in no time you will be cruising along in style and ease The powerful motor is almost completely silent with no offensive belt sound or drag.
It does not look or sound like an electric skateboard and you will fool people into thinking it your standard old-school skateboard.
The electric braking is extremely efficient and provides regenerative braking. There is also a smart brake for added safety. Speaking of safety, the X1 also has a fault alarm to alert you if there are any other issues.
If the remote senses any abnormalities it will vibrate in your hand to give you a heads up that something requires your attention.
If you are looking for a fun, practical and safe gift, you cannot go wrong with the Exway X1.
The X1 handles remarkably well and turns with ease. The sleek aerodynamic design and 9-inch wide flat deck mean an easy and comfortable ride.
The seismic trucks and bushings are well designed and expertly made to add to the experience.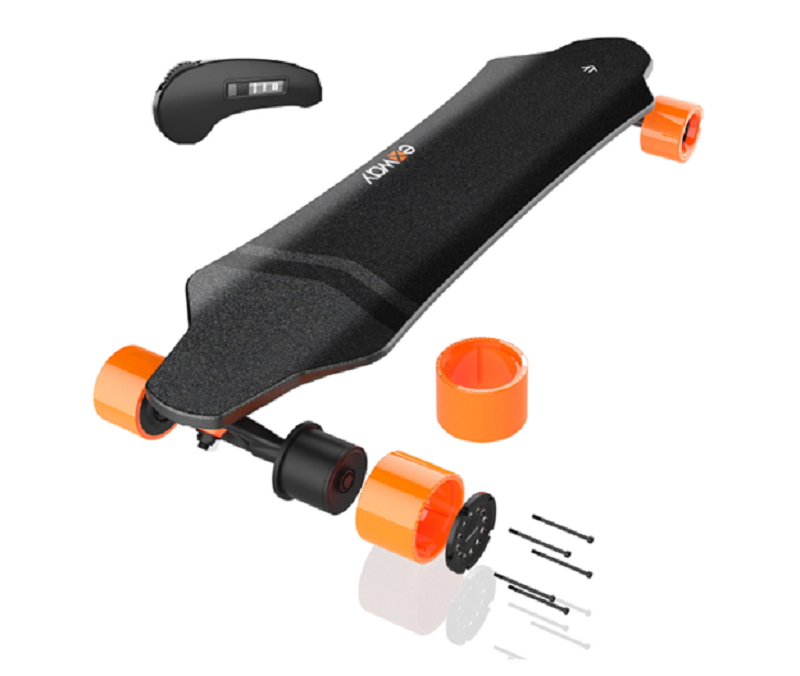 Let's take a look at some of the amazing features on the X1:
The range of 10 miles
25 MPH top speed
350w x 2 or maximum power of 1000w x 2
120WH Lithium Polymer Batteries
2-Hour charge time
over 250 pound capacity
Weight of 14 pounds
9-Inch wide deck made from bamboo, Canadian Maple, and fiberglass
Carbon Fiber exterior
30-degree hill gradient
Water resistant – IP55
Distributed in San Francisco
6-Month warranty
Shift modes on the go with the vibrating OLED remote
The ExWay X1 is the perfect combination of traditional design and advanced technology. It has already proved to be extremely popular and the positive comments from happy fans are overwhelming.
Despite the excellent build and superior technology, the X1 is priced very competitively. It is not the cheapest electric skateboard on the market but considering the quality and performance, it is really good value for money.
Another benefit is the IP55 water resistant rating. This means you can travel through puddles or get caught in the rain without having to worry. The contoured non-slip deck will ensure your feet stay firmly in place even if the deck gets wet.

Remote control
The remote is a vibrating OLED Bluetooth remote that is easy to use, durable and highly responsive. It has a compact ergonomic design and looks good in a sleek matte black.
The OLED display is easy to read even in sunlight. It displays important real-time information that you can view at a glance. Urgent information such as low battery alerts will come through to the remote and you will be advised by a vibration.
The connection is fast and accurate and there is no disconnection as you sometimes find with other electric skateboards. If for some reason the connection is lost, the board will automatically brake for safety reasons.
Customer service
One aspect that is often a problem with products like electric skateboards is the customer service. Reports so far have been extremely positive and it looks like ExWay USA offers exceptional after sales service. That will give you peace of mind when investing in the X1.
Final thoughts
If you want to beat the traffic and save money on gas, the ExWay USA X1 is a perfect choice. It is great for the first time rider as well as more experienced and adventurous skateboarder.
The X1 is the perfect gift for anyone needing to get around or just have a bit of leisurely fun.
It has all the features you need and the power and speed are impressive. Safety is a big factor and the X1 has all the necessary measure in place.
The board looks great and is designed for comfort and ease of use. The build quality and materials are exceptional making the X1 tough and durable.
If you are looking for a great electric skateboard you cannot go wrong with the ExWay X1.