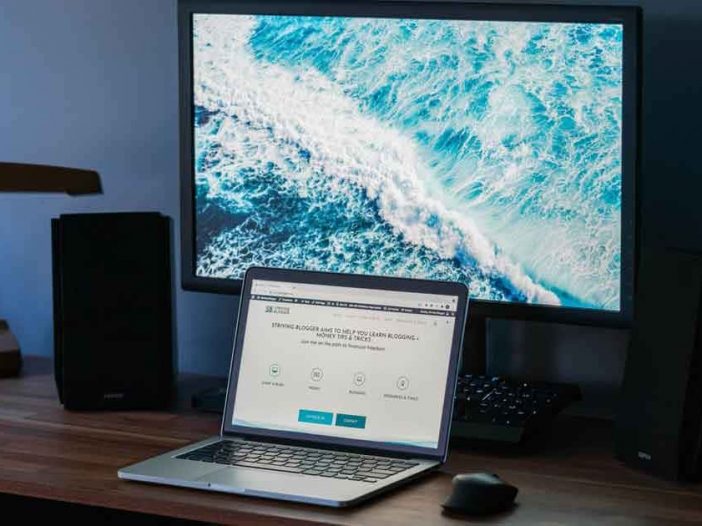 Do You Want To Start Your Blog For Free?
If Yes, then you are in the right article. Buying a domain name and then hosting (cost about $50) is not possible for everyone, You may have some bad financial condition in your home.
But what if I said that, You can start your blog for free and there is no initial investment in it.
You might hear, Starting a free blog is not worth it but if you are a beginner and you want to learn blogging from scratch then you can go with these free blogging platforms. Starting a blog can be a life-changing decision for your life but things are not as easy as it is seen.
Some bloggers start their blog by investing in Hosting and Domain Name and after working for some months, they get to know that they didn't have any interest in professional writing or they can't handle multiple tasks like Keywords Researching or Link Building.
Now their full money and time are wasted. But you can save your money by starting your blog on free blogging platforms.
So, In this article, I will share 10 free blogging platforms where you can start your blogging journey for free.
So, let's Explore It
1. WordPress (Self-hosted)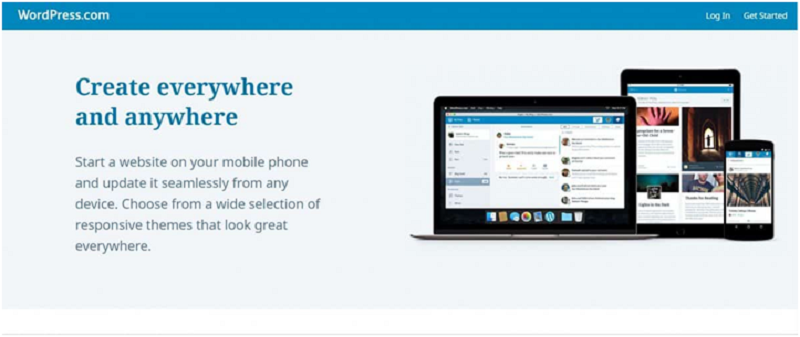 WordPress is the most used CMS platform for the bloggers, It powers about 37% of the total websites available on the internet and, This is also my first recommendation to start your blogging website.
There are a lot of things you can do for free in Self-hosted WordPress and the best thing is that they provide their hosting for free as a trial. WordPress is an open-source content management system (CMS) founded in 2003 to provide a blogging platform to everyone.
If you start your blog on WordPress, then you have to also work on Keyword Researching and Do-Follow Link Building because only then your blog will be ranked on Google.
But, As Self-hosted WordPress is free to use for everyone, there are some its Pros and Cons
Pros:
100% free, You don't need to buy a domain or hosting
It is easier as there is no messing with databases, files, and installation
Upgrades are automatically done for you
Backups are made for you
Cons:
No custom themes. You have to use a pre-activated theme only
Looks less professional
cannot edit PHP or other files
Cannot upload plugins
If you have decided to start with WordPress then follow these steps –
How To Start With WordPress
Visit WordPress site
Click on "Start Your Website"
Sign Up using your Google account
Enter Your Domain name related to Your Niche
Select a subdomain name from the list (like blog.wordpress.com)
On the next screen, select "Start with a free site"
Your Free WordPress Website is Live Now
If you want to start your blog or want to test your writing skills then you can go for Self Hosted WordPress. You can check here about Online Course Builder for WordPress.
2. Blogger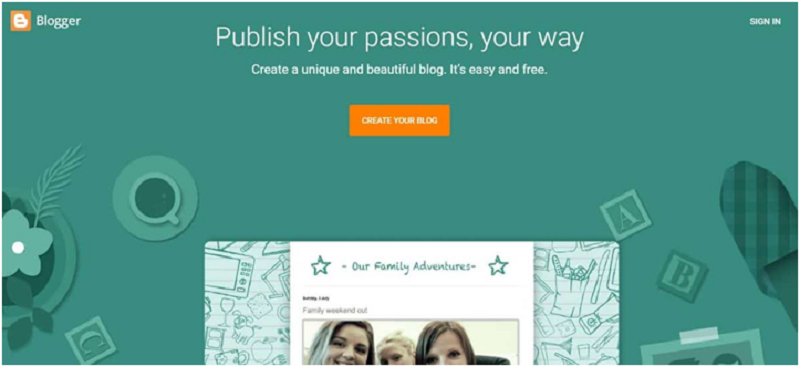 Blogger was developed by Pyra Labs in 1999 and later on, Google acquired the Blogger platform in 2003.
Blogger is famous among newbie bloggers to start their blog for free To create your blog on this platform you only need to sign in with your Google Account.
Blogger is owned by Google, So you don't have to worry about your website speed or its security. One of the main benefits of using Blogger is, You don't need to deal with the coding area but if you know the HTML then you can customize your blogger website by editing the HTML coding.
Now, Take a look at its Pros and Cons
Pros:
Very Easy To Start A Blog
100% Uptime Guarantee
Google's Security
Unlimited number of blogs
Choose between a free sub-domain or custom domain
Cons:
Limited Access
No regular updates
NO access to your site space
Now, If you want to start your blog with the blogger then you can follow these simple steps.
How To Start With Blogger
Go To Blogger and Sign In with your Google Account
On the left, click the "Down arrow"
Click New blog.
Enter a name for your blog.
Click Next.
Select a custom domain name or free blogger URL
Click Save.
Congratulations! Your Free Blog is Live Now
3. Medium
The medium was founded by one of Twitter's founders, and you can also start your free blog on medium.
Medium has a large no. of an audience so you don't need to deal with SEO, The only thing which you have to focus on is your Content Quality. You can only gain views and followers on your blog if your content is engaging and problem-solving.
Creating an article is easy as it comes with a WYSIWYG editor. There is a clapping system in Medium which means, If a reader likes your content/blog then they can click on the clap button to rate your articles.
A content creator can also divide their blogs using Tags (Tags are working as the category in Medium)
Pros:
Exposure and Views
You don't need to deal with SEO
More Comfortable then self-hosted WordPress
You can earn through Medium Partner Program
Cons:
Less Control
Fewer Numbers and Analytics
Not Effective To Promote Your Brand
Third-Party Blogging Site, Not Your owns
How To Start With Medium
Go To Medium and click on "New Publications"
Your Name, Bio and Avatar should be updated
Enter Title and description of your blog
Enter the publication name and description.
Add three tags in your publication
Now, Your Publication is live
Congratulations! You have successfully started your Blog on Medium.
4. Wix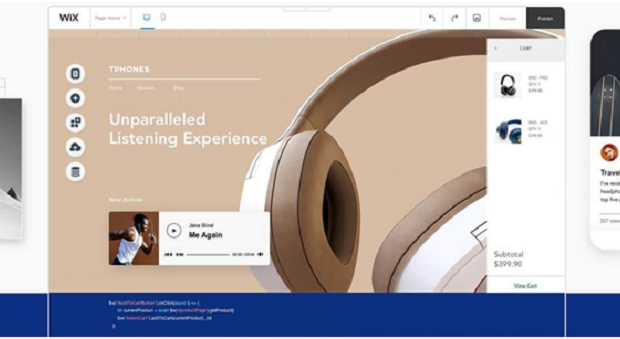 Wix is another top-level blogging platform to start your website for free. They have recently launched their blog service to start content-based blogs and websites.
You can build your website or blog using their Drag and Drop website builder and you can also customize your website/blog by editing HTML codes.
Your newly created website comes with 500 Different website themes, which you can select at the time of creating your blog but after choosing a theme you can't change it later.
With its free account, You get 500 MB of bandwidth and storage capacity but there is a WIX branding on the free website.
To remove its branding, You have to take their subscription.
Pros:
Uptime is great
500 different website templates
Drag and Drop website builder
Use the WIX App market to extend any feature
Cons:
Templates Not Interchangeable
Tracking And Analytics Require A Paid Plan
Site is not Transferable
If you like Wix then you can create your free blog on this blogging platform
How To Start With Wix
Visit wix.com to Sign Up
On the next screen, Select your Niche
Choose how you want to create your website
Improve your SEO by entering some basic details
Add your first blog post and publish it.
Your Site is LIVE Now.
5. Quora
Quora is my all-time favorite platform to create content, There are many and many advantages of using Quora.
Quora is an extended version of Yahoo Answers. There is a lot of spamming in Yahoo Answers while Quora has a better algorithm to deal with Spamming.
You can start your blog on this free blogging platform and you can follow anyone on Quora, and that's why creating a blog on Quora will be beneficial for your website.
The more followers you have, the more views you gain. Quora's UI is very simple and you can not customize it.
You can create your SPACE on Quora, where you can share all your content as well as other content.
Pros:
Very Simple UI
Your answer can be shown in Google Search
You can also generate leads
Earn through Quora Partner Program
Cons:
Not your blog
They can ban you any time
You can't customize anything
How To Start With Quora
You can simply visit Quora and Sign Up there
Search your related niche
and, Start answering
Soon, You will get no. of followers
Don't copy and paste the answers otherwise, your account will be ban.
6. Weebly (Free Blogging Platform)
Weebly is another free blogging platform where you can create your blog for free.
With their drag and drop website builder, You can create your blog easily. Setup the Weebly is just like Wix.
Weebly has a free plan so you can start with them for free.
Pros:
Solid Site Speed
Easy to use the post editor
Constantly improving and adding new features.
Meets standards for security and cookies.
It has an auto-save function so your work doesn't get lost.
SEO settings are easy to update.
Cons:
Limited Blogging tools
Pay for more help
Weebly Photo editor doesn't allow to crop the image
How To Start With Weebly
Visit this link and Sign Up
On the next screen, choose any one option which suitable you most
Select a theme according to your Niche
Customize your website
Enter your blog address
Click on Publish
Your website is Live now.
7. Google Sites
Google sites are specially designed for business purposes however if you want to start your blog, you can do it here.
You can share your website with other Webmasters and you can also track which Webmaster has edited the content of the website.
You can simply Sign Up here to create your blog/website.
There is a drag and drop website builder available which you can use to customize your blog professionally
Pros:
Simplicity & Security
Speed & Sharing
Google Integration
Cons:
Limited Design Features
Limited Marketing Features
No Custom Domain Setup
How To Start With Google Site
Sign Up on Google Sites
Set your website URL
Name your page and click the dropdown menu to change the page template
Select "announcements" to make your new page a blog
Write your content and publish it
If you want to create a business website then Google Site is the better option for you.
8. Drupal

Drupal is a well-known website builder existing in the industry. It is not famous as WordPress and blogger but still, they have a large no. of an audience that works for their modules.
Drupal comes with advanced security and reliability, So you don't have to worry about security.
But, If you are a beginner then you need to learn some technical things to create your blog on Drupal and as a beginner, you want to write great content rather than fixing the technical errors.
So, You may not be comfortable with Drupal as a beginner but if you have previously worked with WordPress then you can use Drupal for your blog.
Pros:
Easy to use
Good for creating large, complex websites
Cons:
More complex than other best CMS
Performance issues
the unsupported plug-ins security issue
You can follow this guide to start your blog on Drupal
9. Squarespace
Squarespace is one of the veteran website building companies that provide drag and drop website builders, Peoples still use Squarespace to build their website/blog.
Squarespace is very easy to handle, From building a beautiful blog to a Successful eCommerce Store you can do it easily.
Squarespace hosting is quite good so you don't have to worry about website speed and you can totally focus on content quality.
Pros:
Best quality templates in terms of design and flexibility
Quality features of any builder on the market
Speed, Security & Data Export
Cons:
Only its in-built features are available
How To Start With Squarespace
Sign Up with Squarespace
Select a suitable Theme
Search an available subdomain for website URL
Design your Squarespace website
Publish your Squarespace website
Congratulations! Your website is live now
10 – Tumblr (Free Blogging Platform)
Tumblr is a popular blogging site that can help you to share your thoughts and the best thing is, you can easily create your blog here. Tumblr has a strong user base so you don't need to worry about SEO or other tasks. The only thing which you need to focus on is your content quality.
You can create your blog, customize it, and later on, you can gain followers from your blog. From a small GIF to a Picture, you can share anything in the Tumblr blog, without the need to write a blog.
If you write only targeted content then you may also convert your followers into successful leads. To increase your content's engagement, You can like, comment, or share the content of other Tumblr Bloggers.
Tumblr has also some Pros and Cons
Pros:
Very simple and user-friendly
Uptime is good
Easy to share, instant community
Don't need to deal with SEO
Cons:
Limited themes and customization
Tough to take backup and import
Not your blog
How To Start With Tumblr
Navigate Tumblr and Sign Up there
Search for Blogs and Follow some Tumblr Blogs
Update your blog about section
Now, Navigate to the dashboard
Write your content using available blogging tools
Publish your content
Hurray! Your website is live now
Conclusion
If you are not sure about yourself or you have doubts about handling multiple tasks then you can go with these free blogging platforms. Starting a free blog on any of these platforms is worth it because you are just experimenting with yourself.
Most newbie bloggers start their blog either with self-hosted WordPress or Blogger.
But with these platforms, you didn't get any traffic in the initial stage but other free blogging platforms like Tumblr and Medium can give you the exposure of initial traffic for free without dealing with SEO.
So, I recommend you to go with Medium or Tumblr because there is also an opportunity to join their partner program to earn money.