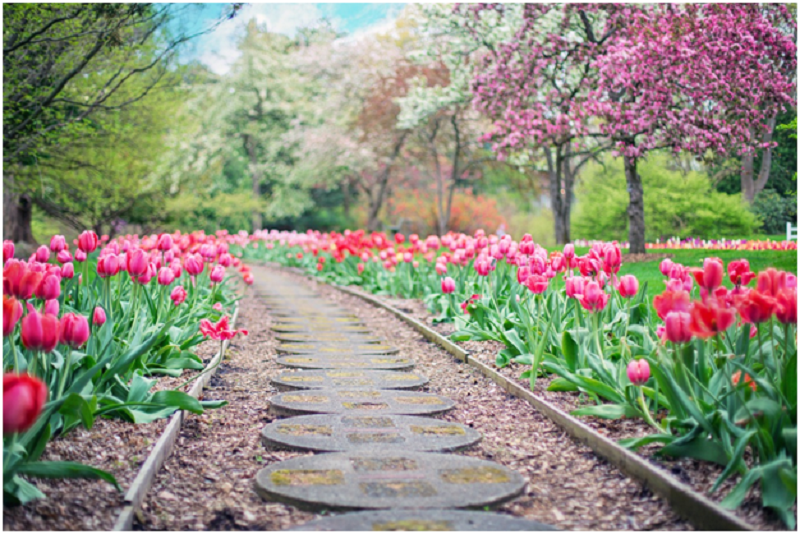 Designing your own garden, or redesigning one you may have inherited or purchased, is an exciting and uniquely challenging adventure.
There are many factors to take into account, such as choosing the plants, laying the nearby plumbing and wiring, laying down paths, setting up lights, and trying your best not to obstruct your next-door neighbors' view too much.
If you would like to learn more about garden design, its fundamental elements and many beautiful styles, you can visit this web page. If you are not all that into reading lengthy explanatory articles, though, we have put together a nifty little list of tips to help you decide on your ideal garden plan and turn it into reality. Fetch your trowel and let's dig right in!
What elements should you consider when planning?
Before you actually take it to the drawing board, you should set aside some time and do your proper research.
These people have some wonderful landscape design ideas for your Gloucestershire garden, but even if you are not a resident of the UK, you can pick up some pointers! Browse Pinterest.
Make excursions to public gardens or annual flower markets, flip through magazines and visit other people's gardens. When you get an idea of what will fit your taste, think about what you want out of your garden and whether you have room to fit it all.
The essential elements to keep in mind are boundaries (walls, fences, hedges, etc.), lawns, paths, patios, water features (bird pools, ponds, fountains, aquatic flowers basins, etc.), lighting arrangements, planting solutions (space for trees, shrubs, vine ladders, and pots), and garden zones (areas for playing, outdoors dining, and such).
Consider the available space, its shape and the direction which it is facing. Also take into account the style of the surrounding area (your house, yard, and neighborhood).
Remember that your garden will change in size, shape, and overall appearance along with the wheel of the seasons. The most important goal is to strike a practical and aesthetically pleasing balance.
Which materials are you likely to need?
Once you have got your plans laid out, you will need to select the materials that you will use to actually realize them.
Choose them with great care and feel free to set aside some time to think it through, because they will influence both the aesthetics and structural quality of your garden, as well as its overall price, and maintenance requirements.
Some of the more common landscaping materials include bricks, timber, different types of paving, concrete, mortar, render, sand, various aggregates, damp proof landscaping fabric, and exterior paint and other finishing touches.
You can find some additional information about this point at this link: https://starsricha.snydle.com/materials-used-for-landscape-architecture.html
Two extremely important things to keep in mind at this point are material acquisition and waste removal. Make your order specific, and make sure to check the materials' condition and actual quantity when they are delivered to you.
Contact your contractor or local waste removal authority (a related company or administrative body) to check the most appropriate method for disposing of your project waste and confirm any regulations of the matter.
How long will building your perfect garden take?
Obviously, this will largely depend on the type of project you have planned out and how elaborate you decided to make your garden. It may involve even more work if you are completely revamping an existing space, rather than just making adjustments to its appearance.
If you opt for employing professionals, their quote will also include a detailed work plan and a largely precise time frame.
Click here to learn what factors into that. In fact, even if you do your landscaping yourself, you should take a leaf from the pros' book and work in stages, which will keep the cash flow of the project from turning into a flooding loss.
More than anything, keep the seasons in mind. If you want to be immediately ready for planting in the spring, your hard landscaping tasks should be completed in the winter.
How to Maintain Your Landscaped Garden
Just because you have finished creating a perfectly designed garden, it does not mean it will stay that way.
In fact, maintaining the design can be quite an involved job. The lawn will need regular cutting, flower beds need weeding, hedgerows trimming, patio areas cleaning and leaves blowing.
The good news is that with the many improvements in technology over the years you can now use tools to help make these jobs less time-consuming if you decide to tackle the jobs and become your own handyman.
Cordless electric technology is what most homeowners are using nowadays.
A quick look on Google for cordless electric garden power tools will yield a lot of information and reviews, like this post about the best cordless hedge trimmers.
A little bit of time spent researching and deciding on what's best for you will go a long way in making your life easier and keeping your garden well maintained. if need to tree removal from your garden, check here https://www.thelocaltreeexperts.com/ky/louisville/