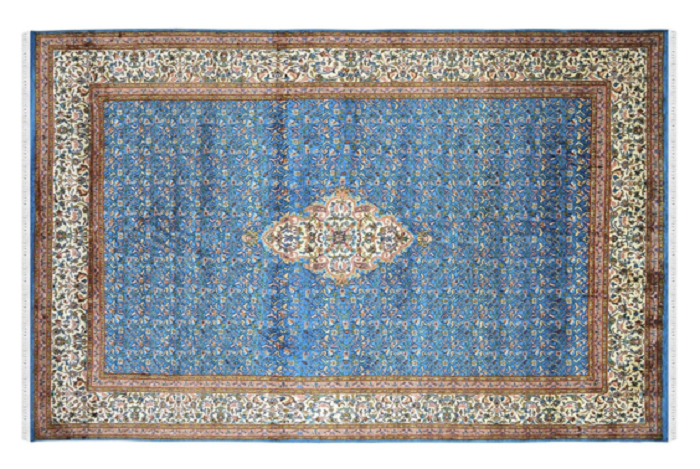 A silk carpet is a special carpet that has traditionally been originated in Kashmir (northern part of India under the Himalayas). The Kashmir silk carpet is usually handmade and 100% hand-knotted by hand, which gives it a "one of a kind" design pattern.
It is known for its beautiful and complex designs with a wide range of colors. Kashmiri design often involves Oriental flower style. A silk rug is handmade it pure natural material (Pure silk). There are two types of silk carpets, the first one is silk on silk and second one is silk on cotton.
This silk material exported by China and China is awarded for producing pure silk material. Silk material has been produced by cocoon Larva and that's why it is very expensive. Silk yarn is very thin as compared to the wool and cotton but much stronger than other material. Most of the drug companies sell artificial silk rugs and machine-made rugs. Sometimes they sell artificial rug and charge according to a pure silk one.
This is very difficult to examine the difference between pure silk and artificial silk if you don't know much about the hand-knotted rug. Find some tips which you can follow for checking and buying a pure silk rug.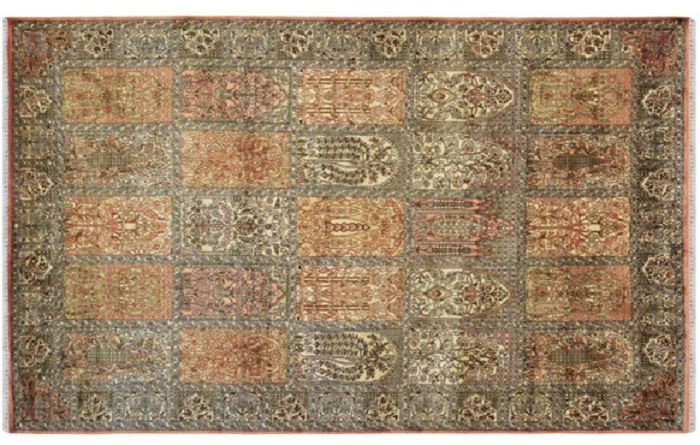 Check the material: Handmade silk carpet is woven in pure silk and cotton material. Sometimes, the warp and weft both are in silk and sometimes warp is in cotton and weft is in pure silk material. The prices of silk area rug vary according to the quantity of silk. For example, a silk on the cotton handmade rug is less expensive than silk on silk carpet.
It is avail in just half price of a pure silk rug. Silk yarn is very exclusive and gives a luxurious look and that's why this is expensive than other carpets. If you want to check that if a carpet is in a pure silk or in an artificial silk then pull a thread from carpet and burns it. The burn yarn will smell like burnt hair and after turning into the dark brown globular, once you touch the globular, it will be broken into powder.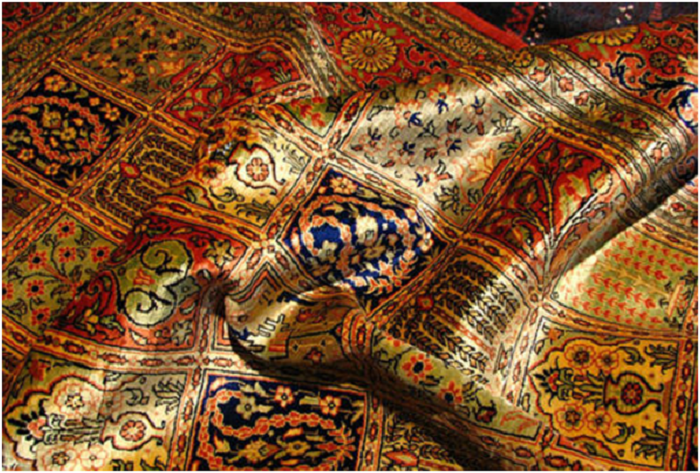 Check the pattern: Woven pattern of a pure silk carpet will appear in both but the pattern on the opposite side may appear a little obscure. It contains fixed color so that you can by rubbing your hand on a small wet part of the carpet. If it bleeds colors it means it is not a genuine silk rug.
The number of knots: Handmade Silk area rug is woven using the handknotted technique. This is an interweaving technique and complete using knots and piles. A pure silk area rug contains a million of knots so you can check the knots. A silk on cotton rug contains minimum 224 knots and a hand knotted silk on silk carpet contains minimum 700 knots. It gives a very soft touch and shiny look.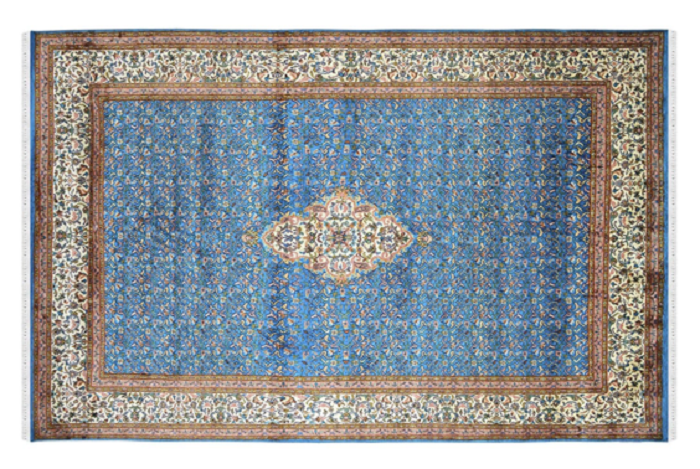 So the above tips you should check when you are going to buy a handmade carpet from a carpet store and ask through e-mail or phone if you buy a rug online.