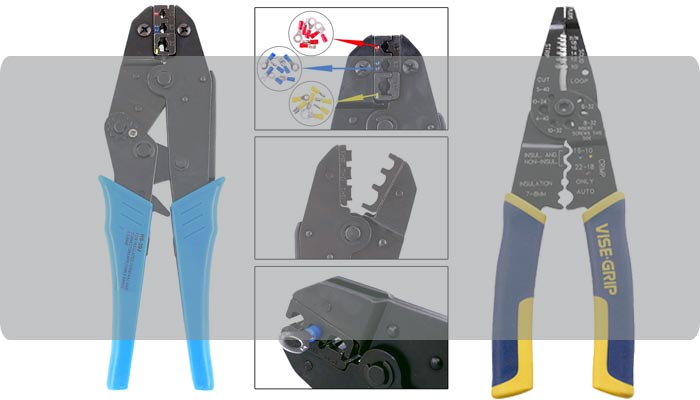 [supsystic-tables id=1]
What is the Best Wire Crimpers?
We have chosen the Titan Tools 11477 Wire Terminal Crimper as the best wire crimpers as they provide great leverage to the user, have a color-coded jaw so the user will perform the correct crimp, and it can be operated with one hand. It is made from steel so it is very durable, and it is a reasonably priced tool in comparison to many other options.
Looking for tools can always be an overwhelming matter, especially if you are not aware of what to look for. Those that use tools on a regular basis know what brands are reliable and what features they can find in which tool. Then, there are those that are new to tool shopping and are unsure of their purchase.
If you need to join two wires or certain types of metals, you likely need a set of wire crimpers. When shopping for those, you will find many options, some of which provide more than just a crimping ability, some that only work for certain wires, and other differences.
As with any purchase, you should research wire crimpers and consider the project you are working on before making a decision.
The Five Best Wire Crimpers Reviews
To find the best wire crimpers, we looked closely at the ratings and reviews of multiple options. From all of the crimpers we looked at, we chose the following five wire crimpers based on their performance, versatility, durability, and price.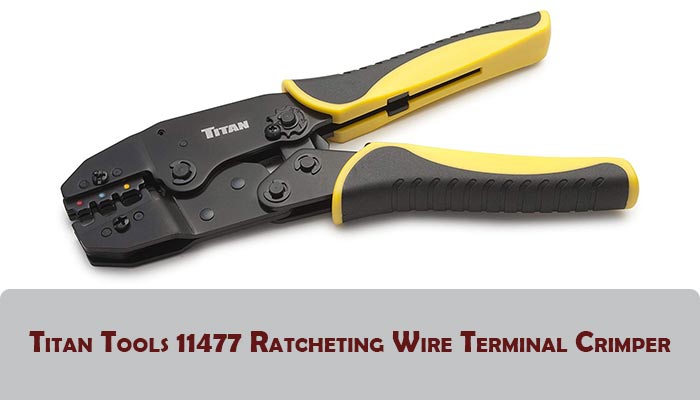 Best Wire Crimpers Overall- Titan Tools 11477 Ratcheting Wire Terminal Crimper 
What You Will Love: The jaws are color-coded, so even if you know nothing about crimping wires, you can choose the right compression with this tool.
The Titan Tools 11477 Ratcheting Wire Terminal Crimper is possibly the best ratcheting crimper out there. The handle has a comfortable grip and gives good leverage. Those features along with the ratcheting mechanism mean that you can handle the work with one hand.
The fixed strong steel jaw with color-coded signs makes it a tool anyone can use. The steel that makes this tool strong and durable consequently makes it a bit heavy as well. You may also find that it crimps copper wires well but steel wires might be a different story. It runs between $20 and $25, meaning that some options are more expensive and others are less so.
Pros: 
fixed strong jaw,
color-coded jaw,
comfortable and adequate grip,
good leverage,
allows for one-handed operation
Cons: 
steel makes it a little heavy,
may not work well with steel wires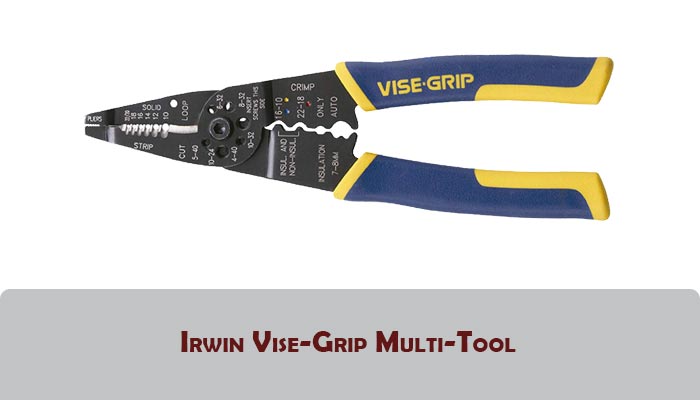 Best Wire Crimping Tool on a Budget- Irwin Vise-Grip Multi-Tool 
What You Will Love: This tool can handle most of your electrical and wiring home improvement needs.
The Irwin Vise-Grip Multi-Tool is, in my opinion, one of the best tools for wire work. It has the ability to strip, cut, pull and loop, and crimp both insulated and non-insulated wires. Though it is not necessarily intended for this, it has been proven to be strong enough to cut through screws.
The induction hardened edges sharpen your tool during use. The jaw is spring assisted so it helps you gain some momentum while the handles you hold are soft and comfortable. For less than $15 and a full lifetime guarantee, this wire crimping tool is a great value.
Unfortunately, this seemingly perfect tool has its downsides. Some people find that the handles have to open too wide and the tool is a bit long, making it okay for occasional use but not consistent use.
Pros: 
great price,
full lifetime guarantee,
spring assisted jaw,
sharpens during use,
can complete multiple tasks such as cutting and stripping wire,
strong,
soft handles
Cons: 
may seem too long or that it has to open too wide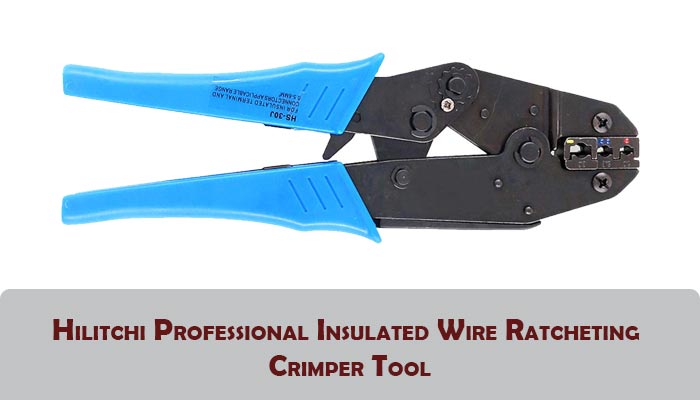 Best Professional Wire Crimpers- Hilitchi Professional Insulated Wire Ratcheting Crimper Tool
What You Will Love: This crimper tool provides a better crimp while decreasing the pain and fatigue on your hands.
The Hilitchi Professional Insulated Wire Ratcheting Crimper Tool is a very handy tool to have around. The ratcheting features along with the self-releasing lock makes crimping much easier and less painful. Those features also give you a better crimp than is likely possible with a regular pair.
These are also highly recommended as automotive wire crimpers. It may take you some time to get accustomed to using this tool, but once you do, it is a great tool. Due to it being a little large, it may be difficult to get into tight spaces. Finally, this tool only crimps- it is not meant to cut or strip.
Pros: 
great price,
self-adjustable ratchet mechanism,
self-releasing lock,
accurate crimping,
light and compact,
makes it easier on your hands,
heavy duty tool,
great for automotive needs
Cons: 
crimp the only tool,
too large for some areas,
the learning curve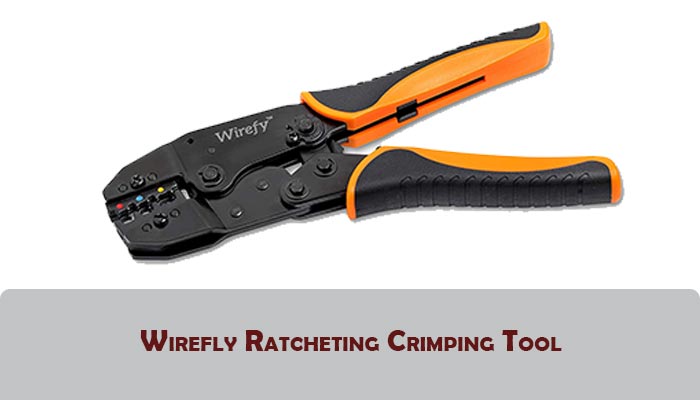 Best Electrical Wire Crimpers- Wirefly Ratcheting Crimping Tool
What You Will Love: This crimper's adjustable crimping force and ratcheting function provide accurate solid crimps.
The Wirefly Ratcheting Crimping Tool helps prevent hand and wrist fatigue with its ergonomic, non-slip handles. The quick release lever also takes some of the work off of you. Though it is definitely not the most expensive option, there are cheaper ones available.
A great feature is the included lifetime warranty if any damage is due to a manufacturing defect. Some users state that the jaw is sharp and will cut through coating while you are crimping. Finally, many find that it takes both hands to squeeze it, so it is likely not a one-handed operation.
Pros: 
ergonomic and non-slip handles,
adjustable crimping force,
quick release lever,
ratcheting function provides solid crimps,
lifetime warranty
Cons: 
a more expensive option,
not a one-handed operation,
the sharp jaw may cut through heat shrink connectors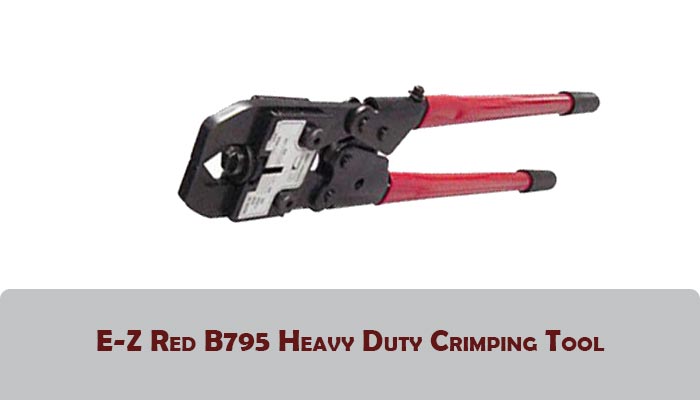 Best Heavy Duty Wire Crimpers- E-Z Red B795 Heavy Duty Crimping Tool  
What You Will Love: This crimping tool gives you 50 crimp settings.
The E-Z Red B795 Heavy Duty Crimping Tool is one of the more expensive options on the market. The jaws provide you with a triangular crimp due to E-Z Red's patented triangular design. This tool also gives you good leverage when you are working.
The crimper does exert equal pressure over the entire crimp in addition to giving you 50 different crimp settings that should cover any job you need to complete. Unfortunately, some of those sets do not provide airtight result.
For the high price, most people would expect better performance. In fact, a few users feel that some cheaper options offer more consistent crimps though some users have no trouble with this.
Pros: 
triangular crimp,
equal pressure,
50 crimp settings to cover any needs
Cons: 
very expensive,
some settings do not provide airtight crimps
Conclusion
When you are searching for a set of wire crimpers, you will find yourself faced with many options. Jumping into a purchase without consideration will likely lead to disappointment. Research the options available to you so that you will choose the best wire crimpers for you and your needs.