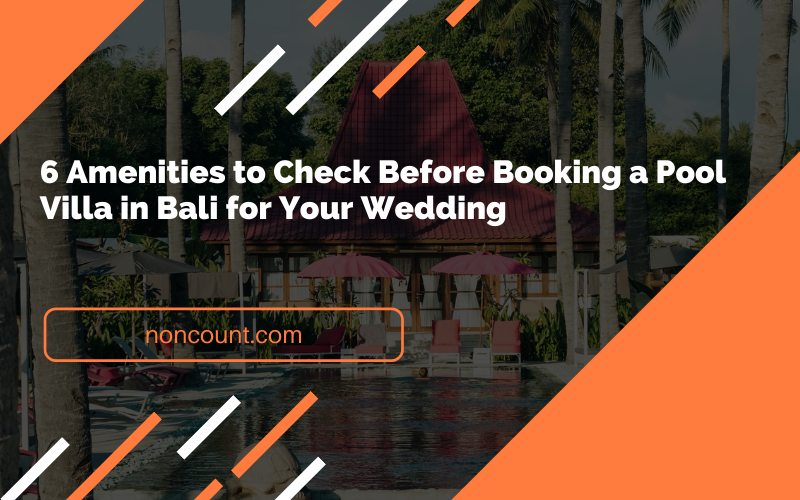 Selecting a wedding venue is one of the critical things in planning a wedding ceremony. Destination weddings are popular, and many couples fly to exotic locations like Bali to have a dream wedding. Your dream wedding could become a bad experience if you are not careful about the wedding venue.
To make sure your wedding ceremony is a happy celebration for everyone, you need to ensure the pool villa you choose in Bali has the necessary amenities. Here is the list of some essential amenities that need to be in a pool villa in Bali:
1. Tent Covering
Bali has a hot and humid season all year round. However, the place is also known to have occasional showers. Depending on the wedding style, you need to ensure the pool villa has the necessary arrangements.
If you have an outdoor wedding, the villa should be 100% ready for downpours with a tent covering. Weather plays a crucial role in the wedding ceremony's smooth operation, and you should be prepared to deal with nature's uncertainty.
2. Portable Generators
If you plan an outdoor wedding, you need a portable power supply for the sound system, microphones, and lights. The DJ's equipment also requires a stable power source. Hence, you need to ensure the villa in Bali has portable generators for outdoor wedding celebrations.
3. Special Staff for the Couple and Their Family
The wedding party is an integral part of the wedding ceremony. The wedding venue should have special staff to serve the couple and their family. The wedding party members play an important role in the wedding ceremony.
Bridesmaids, groomsmen, parents of the bride, flower girls, grandparents, and the ring bearer might need special help and attention to get ready for the ceremony. An exceptional staff for the couple and their family would ensure all the wedding party members are taken care of.
4. Mobile Bars
The wedding package at a pool villa in Bali may include foods and drinks. When you book a pool villa in Bali, make sure it has a mobile bar to serve guests.
The reception amenity plays a vital role in keeping the guests rejuvenated. Mobile bars and food trucks can roll up to the party venue and make things convenient for guests. A mobile bar would also ensure the guests don't have to walk a long distance to get drinks and refreshments.
A mobile bar on a party bus is a unique venue perfect for weddings festivals and other events and parties. A Party bus is a motor vehicle usually derived from a conventional bus. Mobile bar party bus for rent, ideal for weddings & parties and Make your wedding festivals even more special with The Bus Bar. Check here for detail- https://www.limofind.com/tx/lubbock-party-bus-rental/
5. Plenty of Parking
Parking space and its availability is an important factor when planning a wedding event. Since most villas in Bali are located near the coastline or beaches, transportation is an important aspect.
Most people would be reaching the venue by cars, and it is necessary the guests don't have to park far away and walk. Also, the villa should have parking attendants to make things easy for guests and avoid chaos.
6. Band or DJ
A wedding has its magical moments.  It can be a stress-inducing debate to decide the musical arrangements for the wedding ceremony. The villa you choose must offer both options, a live band or a DJ. The musical arrangements set the mood and tone like nothing else.
A live band will bring sophistication and an outstanding level of elegance to the wedding ceremony. Live music can create a memorable experience for everyone, including the couple and the guests.
These are essential amenities to make your wedding ceremony a memorable experience for everyone.