Passwords are being used widely in almost every aspect of our life, in both physical and virtual worlds. On a daily basis, you might have to use passwords more than once to unlock your phone, your front door, or to access your bank account, the company's internal website, or your social media sites as well. Imagine a world with no passwords applied, would we have a simpler lifestyle or get into chaos?
Considered as one of the most popular security methods, passwords have been proving its importance widely. However, recent security issues in password authentication are mostly caused by human memory rather than technical matters.
Having multiple accounts on different websites, digital applications and social network services lead to the complexity of managing passwords for most users. For this reason, it's worth considering allowing users to passwordless login to your website or certain password-protected content.
Since passwordless login hasn't been used broadly yet, you might struggle to find a suitable way to apply passwordless access to your secured content. No need to worry. In this article, you will find all the necessary information to understand the passwordless login method as well as how to use it effectively.
Let's hop in!
What is Passwordless Login?
Why Should You Use Passwordless Login for Protected Content?
How Password-Protected Content Works
How to Create Passwordless Login for Protected Content
What is Passwordless Login?
Passwordless authentication is a secure way to provide users with a faster login process. In other words, you're granting direct access to your website or protected content via a magic link, PIN, one-time passcodes, email, or SMS to your users despite the site requiring a password to log in.
Loads of great giant businesses such as Google, Facebook, or Slack are using two-factor authentication to help their users enhance account privacy. You might already encounter passwordless logins from time to time.
For instance, Google often sends an email notification or a prompt directly to your phone to let you log in to the account without entering your password. The same practice can be seen with Facebook authorized logins or Slack magic link.
Some people believe that passwords are out of fashion, but not in the near future. Still being considered as the simplest yet powerful security, passwords have evolved into an ultimate tool by changing its form of operation from visible to invisible.
Put another way, users no longer need to enter passwords manually, it will be done automatically instead thanks to the invention of passwordless login.
Why Should You Use Passwordless Login for Protected Content?
The benefits of passwordless authentication are surprisingly more than what we can expect. When logging in via passwordless authentication, you don't need to remember your passwords and type them in the password box. This helps shorten the process and save you tons of time.
Passwordless access also gives users greater convenience. Users can authenticate their login identity without passwords, and approach their favorite content anywhere, anytime.
In addition, passwords under users' control are vulnerable to attacks including brute force attacks, phishing, and malware. With no sign of a password in the first place, with passwordless login hackers couldn't know what exactly methods are being used for that particular protected content.
How Password-Protected Content Works
Using passwords to protect content or the whole site becomes popular among WordPress users. Especially for online learning websites, or famous personal blogs, there is some premium content that can not be accessed by the general public. So on the same website, certain user roles are only allowed to access certain types of content.
WordPress hasn't helped its users doing that with the default settings. However, plenty of plugins in its ecosystem are promising to provide password protect content neatly. Password Protect WordPress (PPWP) Pro should be worth a shot.
This WordPress plugin supports you in generating multiple passwords for one or several pages, posts, and products. Once your content is secured, a password form will cover the page accordingly. Only users with the correct passwords are able to view the content.
Moreover, when updating a new theme, or fixing unexpected bugs, you often lock your site down to stop outside intrusion while your site is under construction. A coming soon page or maintenance mode is necessary for your site.
Not only will PPWP Pro create passwords to shield your entire website but it also discourages Google from indexing your site under these circumstances. So non-logged in or unauthorized users couldn't see anything on your website other than the password form.
Normally, you will create a lot of passwords and send each type of user a unique one. With the passwords assigned to particular roles, your users can freely unlock the protected content.
The thing is users may pass down that password to other users or even worse, lose it to hackers. Then your protected content will no longer be "premium" as it originally was. That's when passwordless authentication comes as a brilliant rescue.
How to Create Passwordless Login for Protected Content
Fortunately, Password Protect WordPress Pro also comes with quick access links, an alternative method to let users access protected content without any passwords needed.
Before getting into the instruction, you could take the following steps to get started with the plugins first.
Download PPWP Pro and PPWP Password Suite
In your WordPress dashboard, go to Plugins → Add New → Upload Plugin


Open the Zip file
Back to Plugins, find Password Protect WordPress Pro and PPWP Password Suite and activate them both.
First things first, you still need to password protect your website or content, then send those quick access links to intended users without worrying about passwords distribution. Let's follow the directions to understand how the plugins work better.
Get Quick Access Links for a Protected Private Website
Navigate to Password Protect WordPress settings and switch to the Sitewide tab.
Enable Password Protect Entire Site to turn your site into a private one. After turning on this function, you might come to WordPress customizer to customize password login form as you want.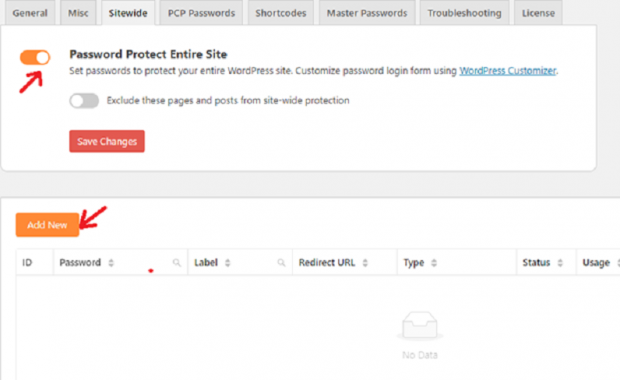 Hit Add New to create a password for your site. There's an option to set user roles, password usage limits, and password expiration date. Once you're done, the plugin will update your password information in the password control table. Simply click Copy Access Link to get the access link of your protected site.

Get Access Links for Protected WordPress Pages
In your WordPress admin dashboard, open Pages, Posts or your custom post type to start protecting your desired content.

Hit Password protect on your targeted post and the plugin will automatically create a new strong password to secure it immediately.

Similar to password protecting the entire website, you just need to click Copy Access Link. Then a quick access link will be copied to your clipboard right away.
Set the access link usage limit and assign user roles
For each password that you create for your pages, posts, or the whole website, the options to limit password usage and set user roles are very important. They help restrict users' entry via the provided quick access links.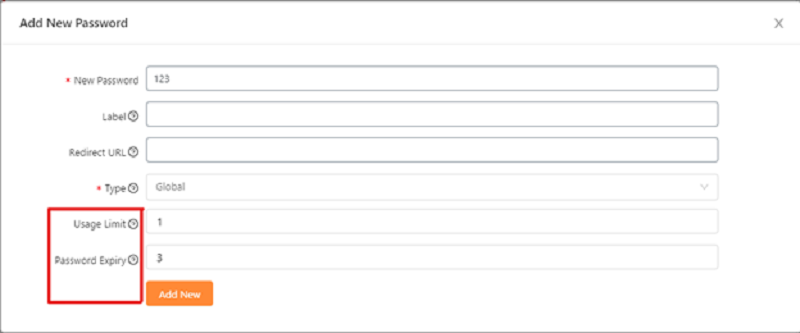 Sitewide password settings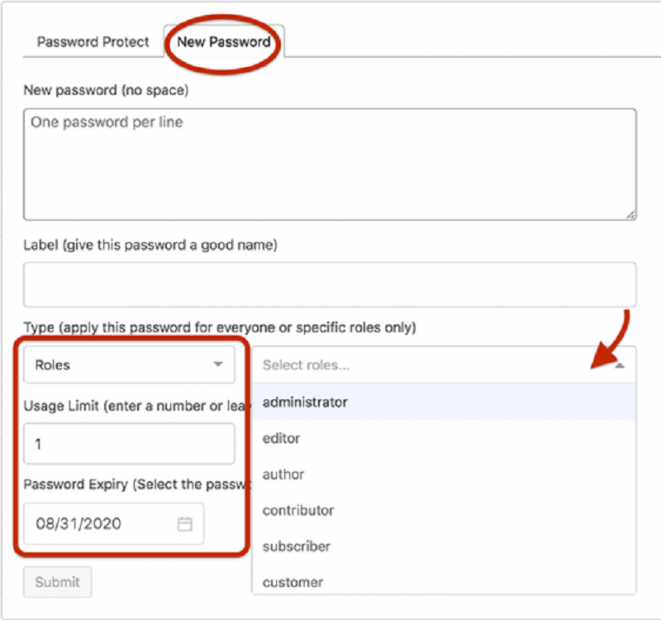 Pages or posts password settings
Every password comes with a quick access link. So when setting the usage limit as well as user roles for a particular password, the assigned access link will inherit all the settings of that password too.
This minimizes the potential risk of sharing access links to others to a larger extent. Since the access links will expire after a certain click or on a specific date, you don't have to worry that the content is going to be available all the time.
Once you protect and get the access link of your post or site, send that link to the authorized users. Certain user roles such as editors or admins with the quick access link are able to perform a passwordless login to the secured website. In other words, you can grant users permission to get in your site effortlessly no matter how many passwords you've created for that site.
Some of you might have a private group on social media sites to share premium content with your VIP members or subscribers only. With the quick access links, those users can approach the post directly without entering passwords. This proves effective for both users and your sake, doesn't it?
You have full control over who can get into the content, meanwhile, users even feel more special when accessing the premium content with ease.
Reduce Steps, Increase Security
Passwordless login is a game-changing invention. Even though there are so many methods such as fingerprint, biometrics, or facial pattern to help users login without entering a password, the secondary solution always comes back to passwords.
The role of passwords in the protection mission on the Internet remains vital. You might want to reduce the login steps but not to loosen your site security. Password Protect WordPress (PPWP) Pro has such an excellent vision that it applies both methods to support users in protecting their valuable content.
On the one hand, this plugin enables you to generate multiple strong passwords to shield your website and content. On the other hand, it lets you get the quick access links of those secured content to send to specific users easily. As the name indicates, users will quickly access the protected pages or posts without any interruption.
If you're still stuck anywhere when creating passwordless login for your protected content, don't hesitate to give your words in the comment section below.